Get The Best Lint Screen & Trap Cleaning For Dryer Vents In Monmouth County, NJ
by PRC Agency
PR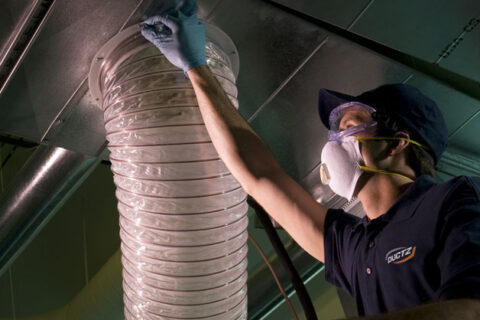 Are you struggling with repeated blockages in your dryer vent system? Make sure your dryer vents are functioning as they should with DUCTZ!
The Wall Township, NJ-based HVAC company provides dryer vent cleaning services for customers in Monmouth County and Central Jersey. DUCTZ offers you expert maintenance for clothes dryer vents and exhaust, optimizing the efficiency and safety of machines and connected vents for better performance and safety in the home.
Overloaded with lint? Don't leave it to luck, get in touch with DUCTZ! More details at https://www.ductz.com/monmouth-central-nj
The company's comprehensive inspection and remediation services cater to all manner of tumble dryer equipment. The DUCTZ team of highly experienced technicians offers you a prompt response to customer service requests and uses state-of-the-art cleaning tools to ensure all your vent systems are left free of dust, lint, and dangerous debris accumulation.
In addition to accumulated debris and fluff from clothing fabric, impacted dryer vents can also attract animals such as birds and rodents. DUCTZ technicians commonly find nests belonging to mice, squirrels, and sparrows cleaning customer vents and exhausts.
The DUCTZ team uses specialized brush tools and air-powered cleaning equipment to remove any dirt or debris that is causing an obstruction in your dryer vent. Similar tools and methods are used to clean booster fan components. All technicians are trained to be able to clean and restore the dryer vent system, identifying potential problems and implementing preventive measures to ensure safe and consistent operation.
The company also provides lint screen and trap cleaning, ensuring that any fabric and fluff that has evaded your screen gets collected and removed. The build-up of this material creates a fire hazard and needs to be regularly cleaned in order to prevent potential dryer fires.
DUCTZ has the training to maintain multi-vent dryer vent systems in apartment and multi-unit accommodations. The company coordinates with a building's management team to ensure vents are regularly inspected and cleared of any obstructions.
About DUCTZ
All DUCTZ technicians are trained to NADCA standards and adhere to the EPA Post-Cleaning Consumer Duct Cleaning Checklist. Engineers use a comprehensive 100-item checklist for all HVAC services, providing before and after photos for transparency and your peace of mind.
A satisfied customer says, "We needed our dryer venting system reworked as the store would not hook up the dryer. We called DUCTZ they solved our problem and we are very pleased with the professional and quick service they provided."
DUCTZ continues to set the standard for dryer vent cleaning services in Monmouth and Central Jersey.
Deal with your duct debris today. Find out more here: https://www.ductz.com/monmouth-central-nj
For HVAC cleaning services you can rely on, call DUCTZ!
To schedule an assessment or estimate in Howell, Deal, Marlboro, Toms River or Central NJ, call 732.256.9194.
Sponsor Ads
Report this Page
Created on Jun 14th 2022 00:44. Viewed 81 times.
Comments
No comment, be the first to comment.