Get The Best Apolitical SEL Lesson Plans Customized For Your School District
by PRC Agency
PR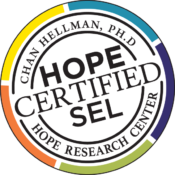 One thing social-emotional learning teaches is the value of community and your kids' place in it. Children learn to trust themselves but also engage respectfully with one another. After all, future citizens in a democracy need to be capable of collective decision-making!
Hope Rising has updated its 'My Best Me' SEL curriculum with lesson plans that are designed to strengthen kids' confidence in taking on challenges and improve their overall well-being - while also skirting the ideological battles being fought over the meaning and purpose of SEL.
Check it out at https://hoperisingsel.com
The non-profit education organization's updated lesson plans give teachers the tools and resources to help children help themselves - and one another. By promoting a supportive learning environment focused on developing kids' self-awareness and building up their problem-solving skills, educators can make a positive impact on children's lives - inside and outside of the classroom. School supervisors will also find that politically sensitive 'ridge issues' are worked around - the only concern of paramount importance is the children's well-being and capacity for achievement.
And, in the end, isn't that the one thing you care most about - as a parent and as an educator?!
You will find a sample lesson at https://info.hoperisingsel.com/social-emotional-learning-sample
The politicization of educational models is not a new phenomenon. American schoolchildren spent much of the pandemic alone at home and their schedules were - and still are - often unpredictable: some days there are no teachers. Nearly 1 million people left their positions in public education in 2021, a 40 percent rise from the year before. Teachers and students alike have been caught in the crosshairs of political posturing as ideologues - from the left and the right - voice concerns about social-emotional learning. However, 93% of teachers support SEL in the classroom, as it has proven to reduce misbehavior and increase academic performance.
More details can be seen at https://hoperisingsel.com/the-case-for-sel
Hope Rising's 'My Best Me' SEL curriculum is flexible, non-sequential, and can be tailored to meet the pedagogical demands of the school district, individual teacher, or parent. An index containing a materials list, glossary, resources page, and additional guidance on the course methodology may be found in the Teacher's Guide.
Every lesson has a parent summary to show what was learned and provide guidance on how to talk about the program at home. Before implementing the program, teachers go through online training to make sure they understand how it works and how to customize it for their class. Teachers can access the student workbook, the parent communication modules, and the guidebooks on the teacher site.
Since the curriculum is so flexible, Hope Rising believes these lesson plans can satisfy the requirements of all stakeholders in children's education. Through improved academic achievement, less disruption in the classroom, and open communication, the 'My Best Me' lesson plans support students' success, while helping to build a more unified classroom atmosphere.
Life challenges are daunting enough as it is. Children don't need to hear adults arguing with one another - that's hardly the example you want to set for kids. So give them a chance to learn who they are and set their own goals. You'll see - they will surprise you!
Go to https://hoperisingsel.com/purchase and give the kids under your care the building blocks for success and happiness.
Sponsor Ads
Report this Page
Created on Nov 2nd 2022 02:13. Viewed 88 times.
Comments
No comment, be the first to comment.