French Press Makes Ground-Free Coffee & Keeps Brew Warm With Double Insulation
by PRC Agency
PR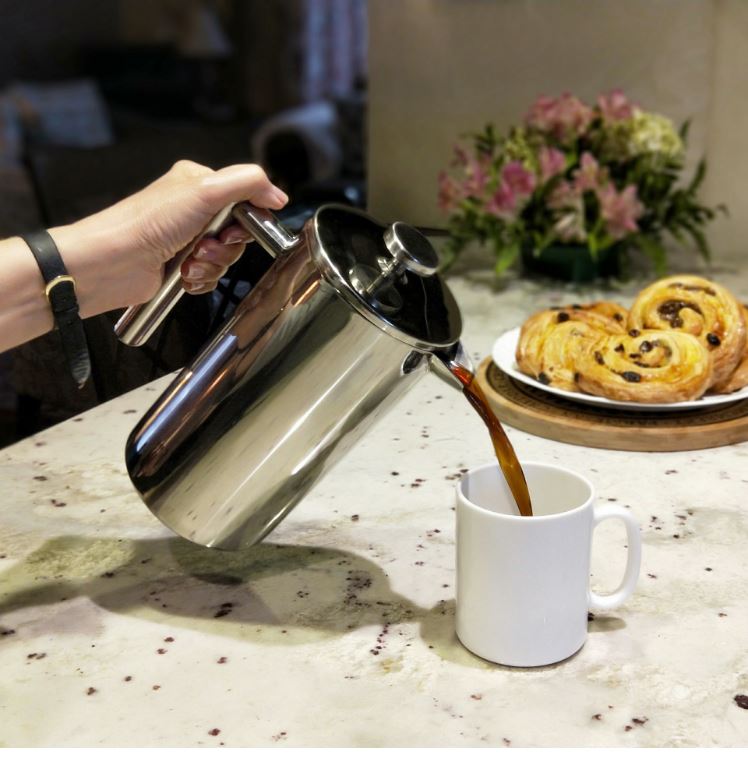 If you're anything like me, your parents probably have most things they want or need. Buying a gift for them is always a bit of head-scratch. What if your parents don't even know they want a better cup of coffee? This is a gift that keeps on giving. Once they've tried a brew from this unique French press, they'll thank you every day.
Go to https://www.amazon.com/SterlingPro-Filters-Enjoy-Granule-Free-Guaranteed-Accessory-Stainless/dp/B00MMQOZ1U?th=1 for more information.
Coffee remains one of the most popular drinks in the world, with around 2 billion cups consumed every day. However, SterlingPro has also designed its latest French press to fill a range of functions, including tea, hot chocolate, cold brew, fruit infusions, and more. Its convenient design and versatility make it an ideal gift for your parents, house warmings, birthdays, or pretty much anyone else who loves a good brew.
Given its popularity, it's no surprise that there are many ways to make a cup of coffee. Consumer review website lifehack.org suggests that a French press is one of best, due to the fact that coffee grounds are allowed to steep, and flavors and oils are not removed by a paper filter. Have you tried it yet?
However, some complain that the French press process allows the coffee to cool too much, and the mesh filters allow some grounds to make their way into a cup. Not anymore. SterlingPro's new design addresses both of these concerns.
The double-wall construction provides a greater degree of insulation, preventing your brew from losing heat. The innovative two-screen filter system also captures all the grounds, so you won't have any more little guys slipping through the net. As an added bonus, two additional stainless steel screens are now supplied with each unit.
Marking the launch of the new press, SterlingPro is also offering a 20% discount on Amazon orders. You just need to use the coupon code STERLINGPRO2 when ordering.
A satisfied customer recently stated: "It's difficult to imagine how I could be more pleased with this press. Solidly built, attractive, and superbly functional. I love the fact that I can have a large mug of excellent coffee in the morning and still have enough to fill my 1.1qt thermos and my travel mug. I also like that the screens come apart very easily for cleaning and that I can throw the whole shebang in the dishwasher. Very handy."
Your parents might not know they want a better cup of coffee. Trust us, when they try SterlingPro, they'll never go back.
Order yours today, and don't forget your discount. Click on https://www.amazon.com/SterlingPro-Filters-Enjoy-Granule-Free-Guaranteed-Accessory-Stainless/dp/B00MMQOZ1U?th=1 so you can learn more.
Sponsor Ads
Report this Page
Created on Mar 11th 2022 00:11. Viewed 67 times.
Comments
No comment, be the first to comment.