Do This For A Stronger Back This Summer
by Neighborhood Trainers
Finding a trainer is a personal choice
There's a lot of focus on the legs and arms when speaking about exercise – but what about the back? Almost every major muscle group in your body relies on the strength in your back when performing heavy movements. Without building strength in this area of the body, you are more prone to injuries that can reduce the amount of time you spend in the gym and result in more harm than good.
There are plenty of exercises that exist to strengthen the back, but they are often neglected. A personal trainer in New York City can help you engage your back. You can also check out a martial arts personal trainer in New York for a fun muscle building activity. Exercising these muscles can make every other movement more effective and efficient, leading to workouts that get more results and help you gain strength faster than ever.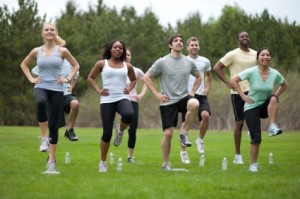 Renegade Row
This move requires getting into position for a high plank. Keep the hands shoulder width apart and stack the shoulders above the wrists. Hips should be square, and the core should be active and engaged. Lift the right hand of the ground, tucking the elbow into you ribs. Switch arms, repeating the motion.
Swimmer
This exercise is done when face down on the floor or a mat. Your arms should be reaching in front of you and palms flat on the floor. Using the back, glutes, and abs, lift the right arm and left leg simultaneously. Lower them, then do the same for your left arm and right leg. By doing this exercise, you are working the muscles in your back and building strength in the core as well as the arms and legs – a full body back workout.
Superman
These are also done lying on the floor or man, but your toes should be pointed down and forehead placed on the floor. Bring the arms in front of you, palms touching the floor. Using your back muscles as well as the hamstrings, lift the feet and hands off of the ground by a few inches for about 3 seconds every time. When lifting, pull the shoulders down and keep them back to avoid scrunching them towards the ears.
Get the body you want and strengthen the back by finding a personal trainer and incorporating these moves into your routine. Your body will be transformed like you never thought possible by putting more effort into strengthening your back muscles.
Sponsor Ads
Report this Page
Created on Apr 25th 2019 05:26. Viewed 166 times.
Comments
No comment, be the first to comment.