Do Dham Helicopter Tour Package – Get the Kedarnath and Badrinath Luxury Helicopter Tour
by Sanjeev Yadav
SEO Consultant
For those who want to take some time out of their busy schedule to take a short break to visit the holy abode of the deities and do the Do Dham Yatra, this trip by helicopter from Dehradun is an incredible option. Do Dham Yatra by Helicopter has always been on the list of religions and people who like travel.
If you are looking for a comfortable Do Dham yatra by Helicopter to spend a blissful time in the famous Badrinath and Kedarnath temples then consider doing
Do Dham Yatra by Helicopter
here take one of the most popular packages.
We have covered every small detail, comfort & charge applicable from your Dehradun helipad to the back Dehradun helipad that you will get during your Do Dham yatra.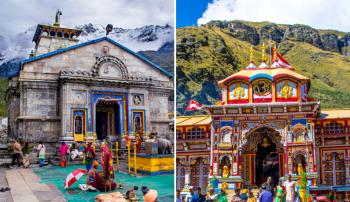 Book 2 nights Do Dham Helicopter Tour Package from Dehradun
Tour Schedule
Day 1

Dehradun - Sersi Helipad - Kedarnath - Guptkashi
Upon arrival at your Sahastradhara Helipad, we first fly to Sersi Helipad then again fly to Kedarnath from the same Helipad. The temple is located at a distance of about 500 meters from the helipad and it takes us about 15 minutes to reach here. The Pandit will go with the group and guide us to the VIP darshan in Kedarnath temple. After darshan, the group of devotees will fly back to the Sersi helipad. After this we will have lunch at Guptkashi situated on the banks of river Mandakini & will also spend the night here.
Program Summary:
- Sahastradhara Helipad to Sersi Helipad
- Sersi to Kedarnath
- Kedarnath Darshan
- In the Afternoon coming back to Guptkashi for an Overnight stay
Day 2

Guptakashi - Badrinath
The group of devotees is taken to Sersi Helipad. From the Helipad, we proceed on an onward journey to Badrinath. On reaching Badrinath Helipad, The devotees will be Check-In at the hotel. After Lunch, we will be departing to Mana village, the last border of India with China for sightseeing. In the evening, devotees will enjoy Swarna Aarti at Badrinath temple & then have dinner and rest overnight in Badrinath.
Program Summary:
- departing to Sersi Helipad
- From Sersi Helipad to Badrinath Helipad
- Afternoon sightseeing at Mana village
- Evening Swarna Aarti
Day 3
Badrinath - Dehradun
After breakfast, when we will be leaving back for Dehradun, then we will see the beautiful scenery falling along the way especially the picturesque view of the Sangam, which is a wonderful feeling for nature lovers. We will fly over the beautiful valleys of incredible forest and five Sangam of rivers like Vishnu Prayag, Nanda Prayag, Karna Prayag, Rudra Prayag, and Dev Prayag. Finally, we will come back and drop at the helipad in Dehradun state.
If you are interested in the tour package and need more information, you can contact the team of professionals who are readily available to serve your needs.
Sponsor Ads
Report this Page
Created on Sep 11th 2022 23:49. Viewed 120 times.
Comments
No comment, be the first to comment.