Crypto Investors Take Note: Infinite Banking Strategies You Shouldn't Ignore
by PRC Agency
PR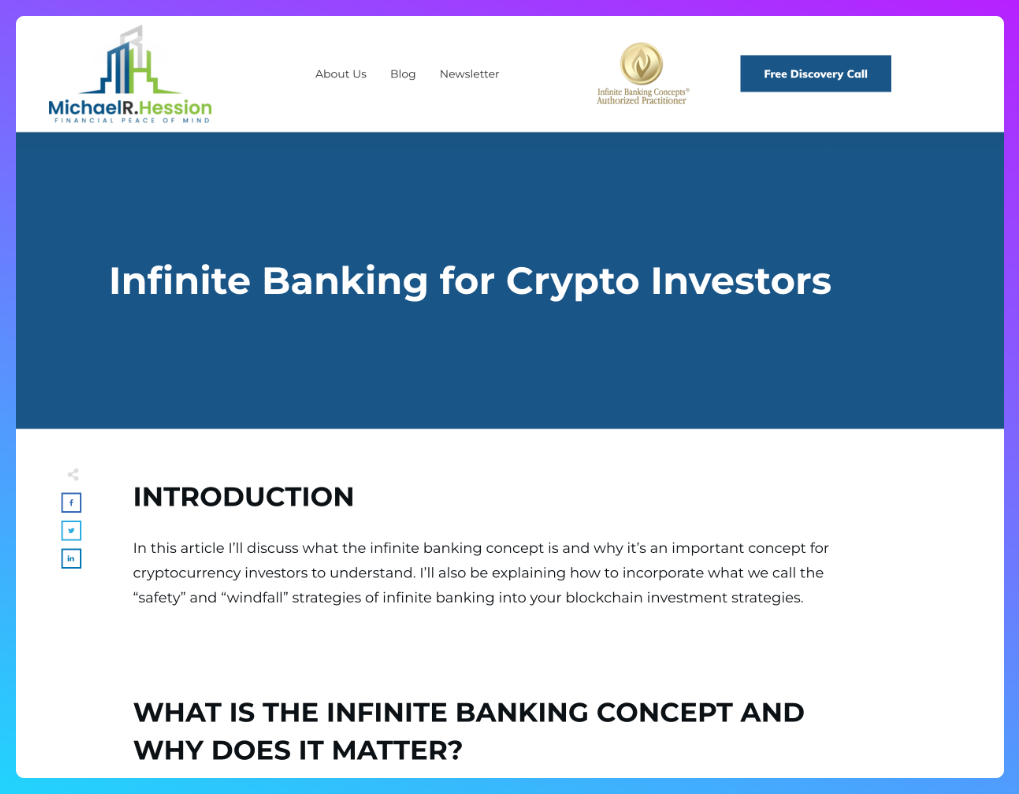 An article covering the subject of 'infinite banking' entitled 'Infinite Banking for Crypto Investors' has now been released and published by Michael R. Hession, an authority in the Infinite Banking for Entrepreneurs and Investors niche. The article brings to light fascinating information especially suited for cryptocurrency traders and blockchain investors.
Not only does the article explain the underlying principles of the Infinite Banking Concept, but goes on to provide explicit advice that is uniquely pertinent to investors and traders in the lucrative but highly volatile cryptocurrency markets. According to Michael Hession, Infinite Banking Concepts Authorized Practitioner® and author of the article, "I recommend combining both safety and windfall strategies that perfectly compliment the speculative nature of cryptocurrency investing."
The Infinite Banking Concept was created by R. Nelson Nash over twenty years ago and is simply an alternative way to store, grow and access wealth in an efficient and relatively risk-free manner. In his book, "Becoming Your Own Banker", which came out in 2000, Nelson goes into great detail on how he discovered that certain properly designed, participating (i.e. dividend-paying) whole life insurance contracts with specific (not-all) mutual life insurance companies in the U.S. are an ideal vehicle for personal wealth management.
To begin with, Hession offers readers a clear answer to the question What is Infinite Banking? "Infinite Banking is a method of using a specific type of ultra-safe whole life insurance policies as an alternative to bank financing while simultaneously growing longterm wealth. When done correctly it allows you to harness the power of compound interest while providing significant tax savings."
Michael R. Hession now welcomes comments and questions from readers, in relation to the article and how it applies to the specific needs of cryptocurrency investors and traders. He has made a point of saying regular interaction with readers is critical to running the site because the more entrepreneurs learn about infinite banking, the more equipped they will be to leverage its power to their advantage.
In discussing the article itself and its development, Michael Hession said:
"I realized that finding a practical and in-depth answer to the specific needs of blockchain investors was not readily available. While much has been written about the underlying concepts behind Infinite Banking, its specific applications are often ignored. These strategies are very valuable instruments for creating and protecting long-term wealth while reducing tax exposure and cryptocurrency investors need to know more about them."
Anyone who has a specific question or comment about this article, or any article previously published on the site, is welcome to contact Michael Hession via his website at michaelrhession.com
Once again, the complete article is available to in full at https://michaelrhession.com/infinite-banking-for-crypto-investors/
Sponsor Ads
Report this Page
Created on Apr 20th 2022 02:01. Viewed 121 times.
Comments
No comment, be the first to comment.