Celebrity Life Coaching: Achieve Work-Life Balance, Happiness & Fulfillment
by PRC Agency
PR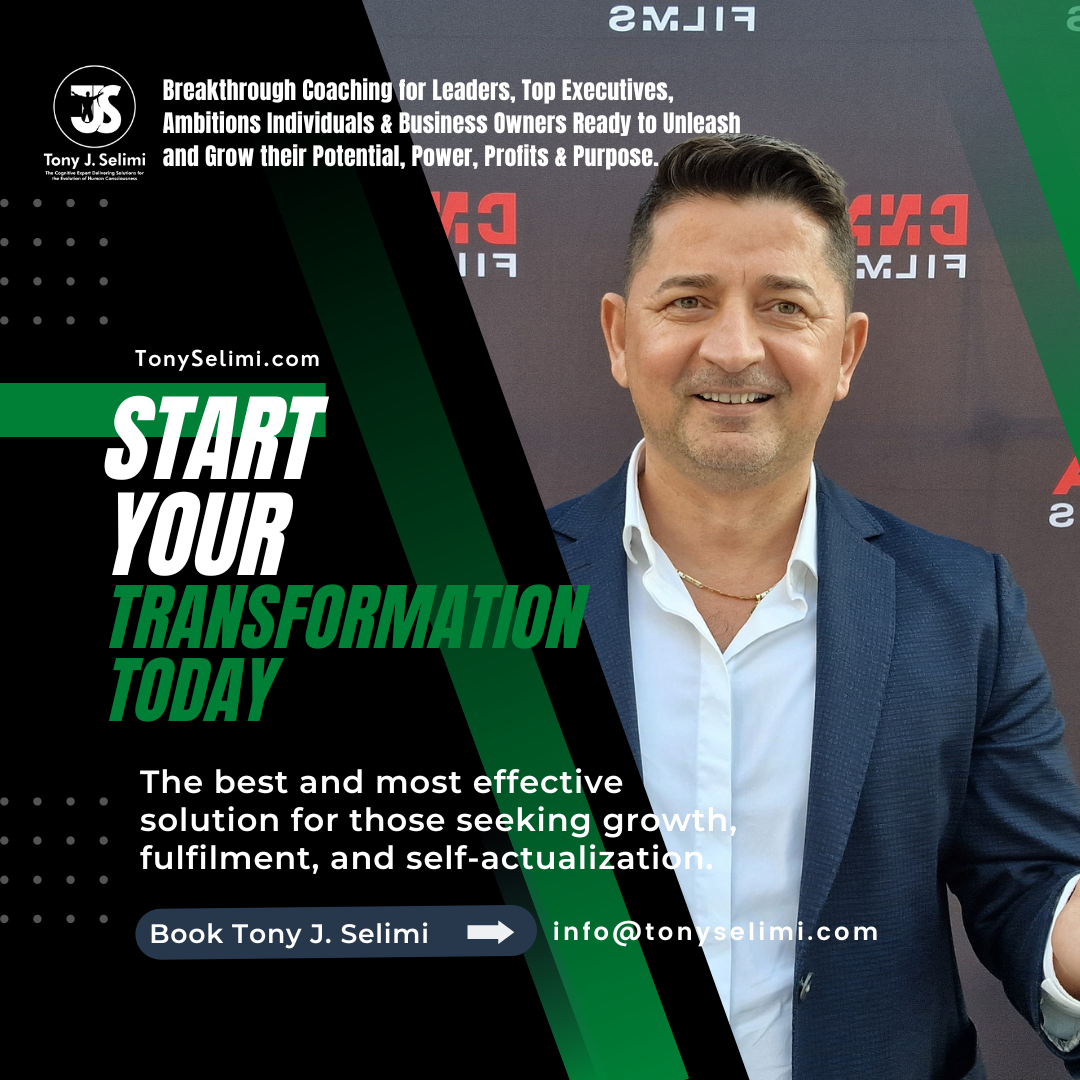 No matter who you are and how high you've climbed, you may sometimes feel lonely, tired, or lost. Even if you're successful, you're not perfect, and there is always room for growth and improvement.
Tony J. Selimi, a world-famous transformational life coach and business mentor specializing in human behavior and maximizing human potential, invites you to his 5-day private coaching retreat. The new program, Vital Planning for Elevated Living Life and Busienss Mastery breakthrough experience, includes 1-on-1 integrated coaching, mentoring, training sessions and dining with Tony, swimming, yoga, breathing, mindfulness, meditation, vocal exercises, and other recreational and relaxing activities. During the sessions, the coach will help you create mental and emotional breakthroughs, a growth mindset, and a detailed empowerment plan for achieving positive transformations in the critical aspects of your life.
The pressure and stress of constantly being in the spotlight, lack of privacy, reputation damage, social media attacks, extensive travel, lack of free time, relationship frustrations, divorce, being single, and exhaustion can leave you feeling frustrated and discouraged. Having worked with corporate executives, A-list celebrities, royals, politicians, and global leaders, Tony J. Selimi knows your unique challenges. He launched the 5-day retreat with the goal of providing you with the guidance you need to regain focus, confidence, and inspiration.
The retreats take place in exotic locations worldwide, allowing you to relax and unwind away from the hassles of your day-to-day life. Sessions can also be arranged in your home, office, yacht, private jet, or another place of your choice.
Tony will create a custom program to address your individual goals and challenges. The immersive learning experience will cover all the critical areas of your life, including mental health, emotional intelligence, physical well-being, spirituality, business and career growth, financial strategy, relationships, and social recognition. Whether you want to focus on a particular aspect or there is a specific problem you would like to solve, you will be able to upgrade your thinking and reconnect with your inner self.
Tony J. Selimi emphasizes the importance of clarity and a detailed plan for living your full potential. In the course of the retreat, you will learn to apply his proprietary techniques and self-mastery tools to expand your vision beyond yourself, clarify your life purpose statement, and create a detailed empowerment plan. Upon completing the program, you will have the focus, confidence, and knowledge you need to achieve growth, happiness, and fulfillment.
"Tony's laser-sharp focus and ability to quickly get to the root of any life issue is a priceless gift one can give oneself. He helped me clarify what I want and why I want it, focused all of my mental faculties to face my fears and doubts, and create the plan and strategy to achieve my personal, relationship, spiritual, financial, and professional goals," said a satisfied client. "Having Tony as your trusted life strategist and transformational life coach gets you more than you bargained for; he illuminates all that is dark in your life."
Embark on a mind-calibrating and heart-opening journey with Tony J. Selimi, and start living, loving, and leading your dream life!
Go to https://tonyselimi.com/vital-planning-retreat to find out more!
Sponsor Ads
Report this Page
Created on Oct 31st 2022 02:11. Viewed 54 times.
Comments
No comment, be the first to comment.