Can soft armor stop bullets?
by Justin Langer
Content Manager
To defend against ballistic threats, soft armor is a frequent sort of protective gear. It is constructed of layers of woven or laminated fibers, such as Kevlar, that are intended to deflect and disperse the force of a bullet's impact across a wider region. For people who could be at danger of gun violence, soft armor is a vital piece of equipment. It is often utilized in law enforcement, the military, and personal protection applications. Can soft armor really stop bullets?
By absorbing bullet energy and dispersing it over a greater region, soft armor is intended to block projectiles. As a bullet enters soft armor, the fibers start to stretch and bend, which serves to slow down the projectile and disperse its force over a wider area. This may stop the bullet from striking the armor and injuring or killing someone.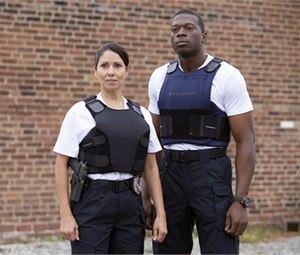 It is crucial to remember that soft armor is not always successful in deflecting projectiles. In rare circumstances, bullets may be able to pass through soft armor, particularly if they are shot up close or with great force. Moreover, only certain sorts of bullets are protected by soft armor, so it's critical to choose the proper kind of armor for your purposes.
Soft Armor Varieties
Soft body armor comes in a variety of forms, each of which offers a distinct degree of ballistic protection. Level II and Level IIIA soft armor are the most prevalent varieties. Although Level IIIA armor is intended to stop.44 Magnum rounds, Level II armor is meant to stop 9mm and.357 Magnum bullets. Both forms of armor are rated to stop most pistol shots, but they are not rated to stop rounds from rifles.
Factors Influencing Bullet Stopping Power
The ability of soft armor to deflect projectiles is influenced by a number of variables. The density and thickness of the armor are two of the most crucial elements. In general, armor that is denser and thicker is more effective at stopping bullets than armor that is thinner and less dense.
The quality of the armor is another crucial consideration. High-performance fibers like Kevlar, which are intended to provide maximum protection against bullets, are often used to make high-quality soft armor. Low-quality armor may not be able to provide the same amount of defense and could even fail in certain situations.
The efficacy of soft armor may also be influenced by the kind and speed of the bullet. As was previously said, soft armor is only made to deflect particular kinds of bullets, thus it is crucial to choose the proper kind of armor for the danger you are facing. Moreover, faster-moving bullets may have an advantage over slower-moving rounds in their ability to pierce soft armor.
Conclusion
Soft armor may be useful in deflecting bullets, but it is not infallible. Soft armor is intended to absorb a bullet's energy and disperse its impact across a wider region, preventing the projectile from penetrating the armor and inflicting harm or death. The quality, thickness, and density of the armor, as well as the kind and velocity of the bullet, may all have an impact on how effective soft armor is. To guarantee optimal protection, it's critical to choose the proper kind of armor for your unique demands and to be aware of its restrictions.
Sponsor Ads
Report this Page
Created on Mar 11th 2023 23:13. Viewed 38 times.
Comments
No comment, be the first to comment.