Bridging The Gap Between Student Expectations And University Offerings
by Stephanie Scott
Internet Marketer
Emerging markets surveyreveals a significant mismatch in expectations between students and universities
London, January 8th 2018 -Original research by Magnify Ventures investigates students' expectations regarding their key motivations for going to university.
In order to explore students' educational needs and motivations Magnify Ventures commissioned research led by IPSOS, the global market and opinion research specialist, interviewing 5,600 students in emerging markets, including Egypt, Nigeria, Philippines, India, China and Pakistan. In addition, 120 faculty members and 30 HR Managers of large companies were also interviewed.
When asked for their main motivations behind going to university, 9 in 10 students (91%) responded it was to secure a job and they believed it was a stepping stone to professional success. However, when asked whether the primary objective of universities was to prepare students for the job market, only one third (33%) of faculty members were in agreement.
To complete the whole picture and understand employers' perspectives, HR professionals of large companies were also asked about their training budgets. Nearly 9 in 10 (87%) said their company had to invest more in training fresh graduates than five years ago, showing that the gap between what employers are looking for and what students can offer post university graduation is widening.
The results not only show that students hold expectations are largely unmet but more importantly there is a huge gap between students' expectations, university offering and companies' recruitment needs. A degree is no longer an automatic launchpad into interesting and well-paid work.When asked to state their top considerations when choosing a university,students in the Philippines said the length of study was an important factor because they wanted to graduate from college soonest. The top three considerations also show that students are getting increasingly keen on supplementing undergraduate university degrees with work experience or additional education.
"Busy working professionals, and even Overseas Filipino Workers largely drive demand for online higher education in the Philippines. At least 70% of online university students pursuing post-graduate degrees are working full-time."Commented Christine Dugay, Senior Consultant at IPSOS.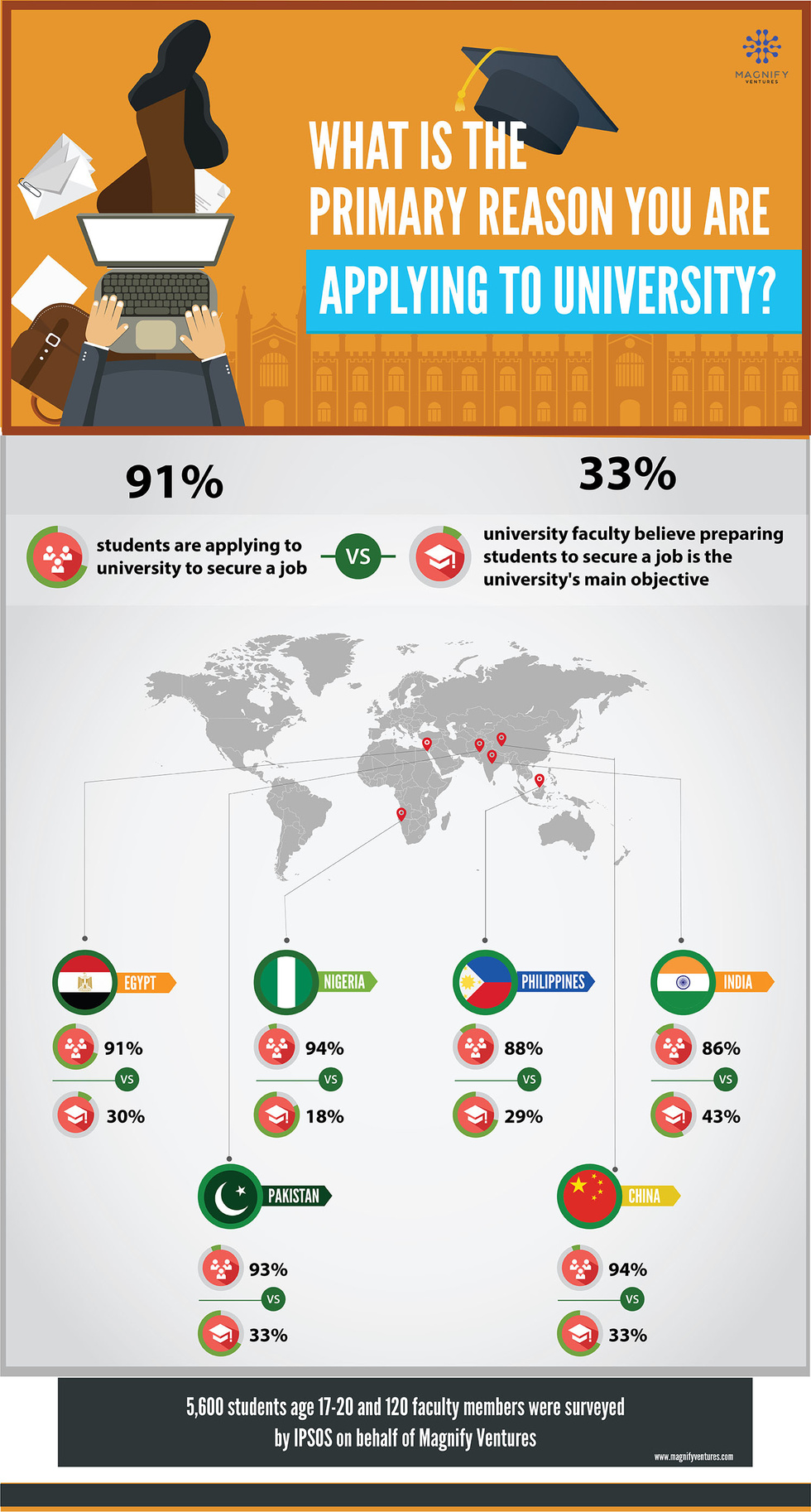 Considering the high expectations and financial sacrifices attached to higher education, bridging the gap is of paramount importance. MOOCs (Massive Online Open Courses) and other alternative education providershave made significant progress with innovative certificates signaling that they are beginning to bridge the gap. In contrast, most online universitieshave created online versions of their existing curricula not really moving the needle towards better workplace preparedness.
So how likely is it thatalternative education will someday replace universities?Online has the potential to address some of the ROI and affordability concerns, and it also allows students more flexibility to work while studying - but is that enough to bridge the gap? Is it nowup to students to find a way to bridge the gap?
Fadl Al Tarzi, Managing Partnerat Magnify Ventures commented: "there is a clear conflict between what is essentially the buyer and the seller within the education sector. If we learn from other sectors such as banking or telecom we can only conclude that the current levels of tension will inevitably lead to disruption. The global higher education system from developed to emerging markets is largely unsustainable in its current form."
Ends
Notes to editors
For further information or to arrange an interview with Fadl Al Tarzi, please contact Anne Bourgeois: asabourgeois@outlook.com
About the survey
The survey interviewed a total of 5,600 students, 120 faculty members and 30 HR managers of large companies, and was conducted by Ipsos on behalf of Magnify Ventures between September and December 2017.
About Magnify Ventures
Magnify Ventures @magnifyventures is a hybrid technology firm. We combine operating technology startups with an angel fund, both designed to run, build and invest in disruptive businesses - while making the world a better place in the process. Our sector of focus is online education. We're entrepreneurs, innovators, and business people who have built and operated successful organizations—not financial analysts or venture capitalists looking for the next big idea. Magnify Ventures does not intend to find cures to the world's diseases or to foster world peace, rather our intent is to invest in highly promising and innovative ideas which have the ability to positively impact our world one step at a time.
Sponsor Ads
Report this Page
Created on Jan 13th 2018 00:32. Viewed 245 times.
Comments
No comment, be the first to comment.