Award-Winning Annual Breakthrough Coaching Sessions For VIPs & Executives
by PRC Agency
PR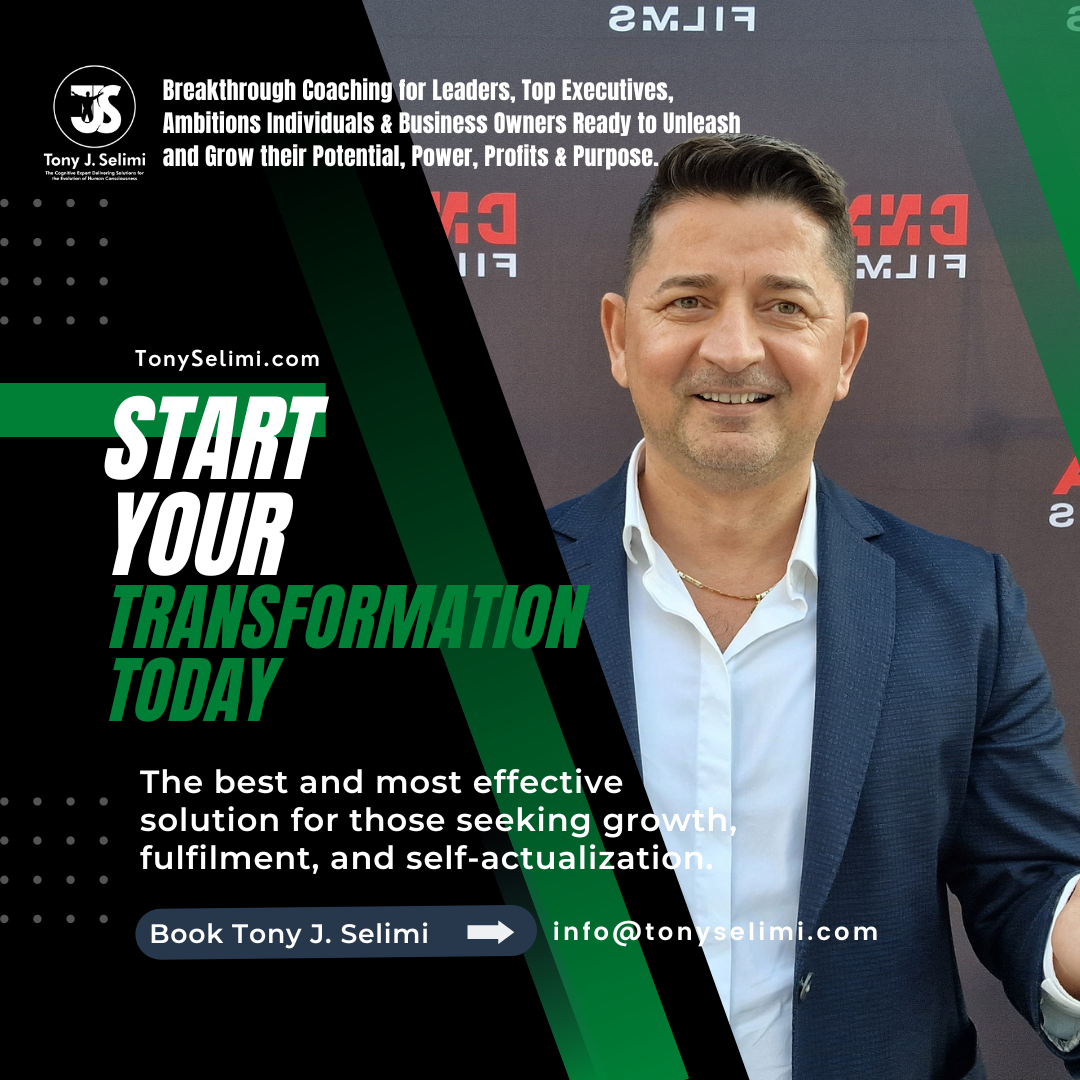 The road to success is always under construction. Get on the path to your greatest achievements and find your inner calling with a wise mentor by your side.
Elevated Being, Living, Leading and Loving is a new coaching program introduced by Tony J. Selimi, an internationally renowned life and business coach. It was developed for CEOs, senior managers, business owners, and high-net-worth individuals looking to reach their full potential and live with a greater sense of achievement. Tony's goal is to equip you with powerful principles for maximizing your awareness, clarifying your vision and values, improving the key aspects of your life, and living more meaningfully.
Go to https://tonyselimi.com/services/coaching-packages for more information.
As a human behavior expert and a person who has overcome many life challenges on his own journey to success, Tony J. Selimi understands that even successful individuals have their own insecurities, doubts, and fears. In his new coaching program, he tailors his approach to address your unique life circumstances.
Some of the qualities that corporate executives, successful entrepreneurs, and other ambitious professionals have in common are resilience, persistence, confidence, and good decision-making skills. Their hard work and determination bring significant results, however, despite their accomplishments, many of them experience frustration with their business or career, regret some of their professional choices, or believe that they could have achieved more. Does this sound familiar?
Tony J. Selimi's program is an alternative to traditional behavioral change coaching and is based on the premise that you can acquire the skills and tools to overcome any life challenge. Throughout the year, Tony will guide you in self-reflecting work and will teach you empowering strategies for accelerating your personal, professional, and spiritual growth. You will be able to overcome your self-imposed limits, gain clarity, increase productivity, create breakthroughs, and live your best life.
"You'll start to give rise to your authentic voice, clarify your priority of values, evolve your mindset, awaken and grow your potential, and acquire the confidence to honor your truth," says Tony.
The basic package includes 21 hours of coaching during the year, with weekly sessions during the first 3 months and monthly sessions in the remaining months. The Vital Planning Life and Business Mastery Premium package includes a one or two-week growth-focused transformational retreat in an exotic location with 1-on-1 integrated breakthrough coaching and training sessions, as well as relaxing and recreational activities.
"Spending two weeks with Tony is like having the wisdom of the world's greatest teachers distilled in pearls of wisdom that nurture your soul and quench your thirsty heart for love," said a satisfied client. "The result of a divine collaboration with Tony as your see-through coach whilst on holiday is greater love, personal freedom, expanded higher consciousness and an overall sense of well-being."
Take your business and life to a whole new level with Tony Selimi's breakthrough coaching.
Go to https://tonyselimi.com/services/coaching-packages to sign up!
Sponsor Ads
Report this Page
Created on Nov 6th 2022 14:11. Viewed 32 times.
Comments
No comment, be the first to comment.