All-Natural Green Multi-Purpose Home Surface Cleaner: Safe For Children & Pets
by PRC Agency
PR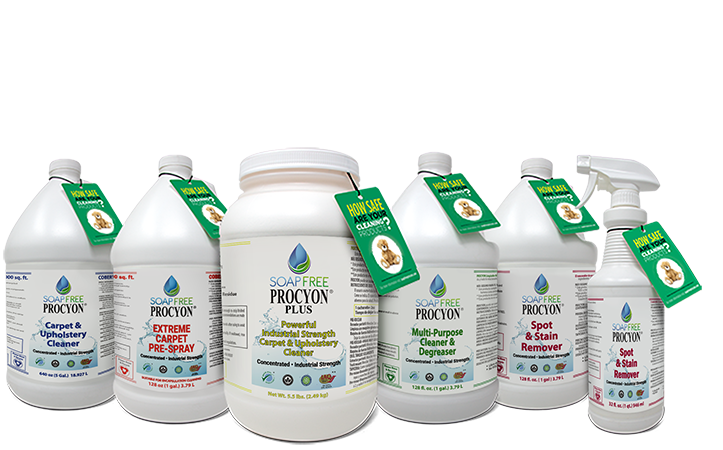 Did you know that common household cleaning items can cause dermatitis, as well as asthma and other respiratory issues? Stop putting yourself and your loved ones at risk! Plus Manufacturing, Inc. has cleaners that won't harm your health in any way!
The company's cleaning solutions are healthy, safe, and green. You will be able to find products for all of your cleaning needs including spot and stain removers, carpet and upholstery cleaners, tile and grout cleaners, multi-purpose degreasers, and carpet pre-spray.
Go to https://soapfreeprocyon.com/shop for more information.
Plus Manufacturing, Inc.'s eco-friendly PROCYON product line is Green Seal approved, soap and detergent-free, odorless, hypoallergenic, non-toxic, biodegradable, and consists of all-natural ingredients. These cleaning products are completely safe for you to use around your children and pets.
Research has shown that since chemical soaps, detergents, and common household cleaners can easily penetrate the user's skin, the individual's body may absorb dangerous chemicals that can have detrimental effects on their overall health. Furthermore, typical cleaners contain fragrances, which can cause skin irritation and allergic reactions.
The company's Carpet & Upholstery Cleaner is available in various size options including half a gallon and a full gallon. This product won't leave behind any sticky residue, which will help keep your carpet as clean as possible. It also breaks down any old soap residue left behind from cleaners you may have used in the past.
With the Tile & Grout Cleaner, you will be able to effectively get rid of dirt and residue. In addition, the cleaner will help your grout regain its original color and will prevent it from becoming sticky after coming in contact with water, eliminating the risk of slipping.
Plus Manufacturing, Inc.'s PROCYON products have been used in schools, healthcare facilities, shopping malls, and homes for over 30 years. The company is focused on reducing the impact of toxic chemicals on the environment and protecting the health of families.
A satisfied customer said: "For over 10 years I have cleaned my own carpet. I have owned two brands of machines and used many types of shampoo and cleaners. I had yet to find a cleaner that truly was odorless and had no or minimal soap. This product meets these requirements and more. It is environmentally safe, and I cannot say enough good things about it. Try it and it will speak for itself."
Plus Manufacturing, Inc.'s PROCYON line is just as effective as typical cleaners and doesn't contain any dangerous chemicals! Visit their website to discover their entire product range or call them at 800-776-2966 for any questions!
Ready for a spotless home without putting your health on the line? Click on https://soapfreeprocyon.com/shop for the information you need!
Sponsor Ads
Report this Page
Created on May 17th 2022 02:17. Viewed 66 times.
Comments
No comment, be the first to comment.