Advantages Of Picking Embroidery Digitization By Cre8iveSkil
by Cre8ive Skill
We Digitize Your Dreams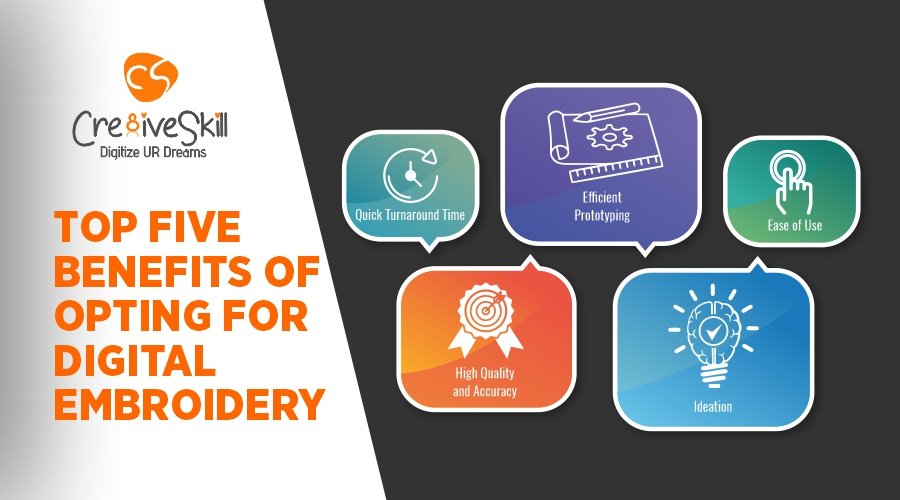 computerized embroidery using custom designs and patterns. Making the process easy, convenient, time-efficient, and precise, this works meticulously to create inspiring embroidered products like apparel, fashion accessories, home décor items, and promotional products.
Here are the top five advantages of opting for digital embroidery:
Quick Turnaround Time: When you opt for digital embroidery, the process takes place at a very fast course of time. Whatever be the design, whatever is the fabric, computerized embroidery is a pathway to handle multiple orders simultaneously and that too with quality and accuracy within the promised time period. The speed of the machine varies depending on the type of machine-like 9 needle machine, 12 head machine, and 172 heads.
High Quality and Accuracy: Since the time embroidery artwork has been digitized, the level of quality and accuracy has gone far beyond our expectations of design finish. The final output looks more appealing and soothing to eyes with every cut, every line, every curve, and every edge with smoothness and sharpness. However, a little bit of supervision and expertise in placing an accurate design is required to get a flawless output.
Efficient Prototyping: After the design gets loaded to the computer software and becomes computer-ready, it can be saved and used multiple times to create an endless number of prototypes with the same level of integrity, accuracy, and quality. This, in turn, becomes more rewarding and practical as well to create mass embroidery digitization.
Ideation: New and innovative ideas and a wide spectrum of varieties for embroidery designs that are easy to envision and convenient to create become the key benefit. With a single innovative design there comes an option to multiply the design output with the same feel or with added curvature, elements, or dimensions.
Ease of Use: Working on a computer to give life and energy to your design masterpiece is no rocket science. All that is required is a simple instruction manual that anyone can easily follow and put the design on any piece of fabric or canvas. However, creativity does need expertise and experience but once the design is ready, rest all can be easily and conveniently managed through software designed for custom embroidery digitization.
To conclude, digitization kick starts a new journey for embroidery and is on the verge of surpassing its own defined fashion boundaries with the enormous benefits to enjoy and create stunning masterpieces.
Source:https://www.cre8iveskill.com/blog/top-five-benefits-of-opting-for-digital-embroidery
Sponsor Ads
Report this Page
Created on Mar 8th 2021 23:32. Viewed 593 times.
Comments
No comment, be the first to comment.