A Guide On How To Find Relevant Keywords For Perfect SEO
by Milkyway Infotech
We Strike With Solutions That Have An Effect.
The foundation of the SEO process totally depends on keywords and their perfect incorporation in the content. Right keyword selection is a crucially important section of your content creation and SEO strategies. Understanding this much necessity of keyword selection and their incorporation in content and digital marketing strategies, this blog is written to help SEO Service Provider make strategies in finding out the best keywords for their website or blog.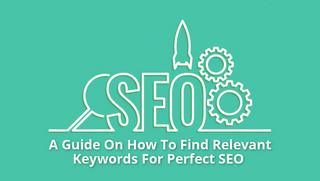 Brainstorm Possible Keywords
The initial stage is one of the most important however the found as very important for various marketers. In spite of jumping into keyword research with one or more keywords in mind take a bit of time to organize an exhaustive list of topics or themes related to your business. You can use the following strategies in order to brainstorm keywords:
● Go through your own marketing materials
● Analyze related magazines or industry journals
● Asking sales or staff for suggestions
● Checking competitors or key
At the starting phase, you can use the free Search engine optimization tool in order to receive hundreds of related keyword suggestions. Keep it in mind that you're only brainstorming. The list will not give you the situation of how popular a keyphrase it, and how difficult will it be to rank for.
The Most Relevant Keywords
The next steps are to go choose the most relevant keyword from your given list. You can have a better idea by asking yourself one question if I was a customer searching for a product which terms would I search for most, and which keyword will be effective enough to drive sales. Long-tail keywords will often result in higher conversions.
Use Keyword Planner For checking Volume and Competition in order to get more relevant hits for those keywords related to your website.
Search for the keyword variations & related terms to mention them in your content
Algorithms are getting more and more sophisticated therefore websites that cover each & every aspect of SEO very precisely tend to rank best. It directly means that each piece of content created not only includes one or two main keywords but other variations too.
One method of brainstorming these terms is to use google's related search function. You can do it with easy, just type selected keyword in the google search box and then scroll to button of the page. Check the section "searches related to…" These words or phrases are considered relevant to your chosen keywords.
I hope the blog conveys all the useful information that you might need while searching for a keyword for your business. If you are looking for SEO Company in Noida, then we recommend you contact Milkyway Services now.
Sponsor Ads
Report this Page
Created on Oct 19th 2019 00:44. Viewed 249 times.
Comments
No comment, be the first to comment.