A Detailed Guide on the Many Different Types of Coal
by Rudy P.
SysAdmin at howtofindthemoney
When the average person considers "types" of coal, they are generally referring to terms that relate to coal rank (lignite, bituminous, etc.) or coal grade (low-sulfur coal, steam coal, met-coal, etc.). Coal type is a specific geologic classification based on the general appearance of coal. Most coals have internal layering, called banding. Coal types, and subsets of types, called lithotypes, are based on the presence or absence of banding, and the brightness or dullness of individual bands. Coal lithotypes are further divided into microscopic microlithotypes, which are composed of different types of microscopic coal components, called macerals. Macerals are to coal what minerals are to rocks (i.e., the building blocks).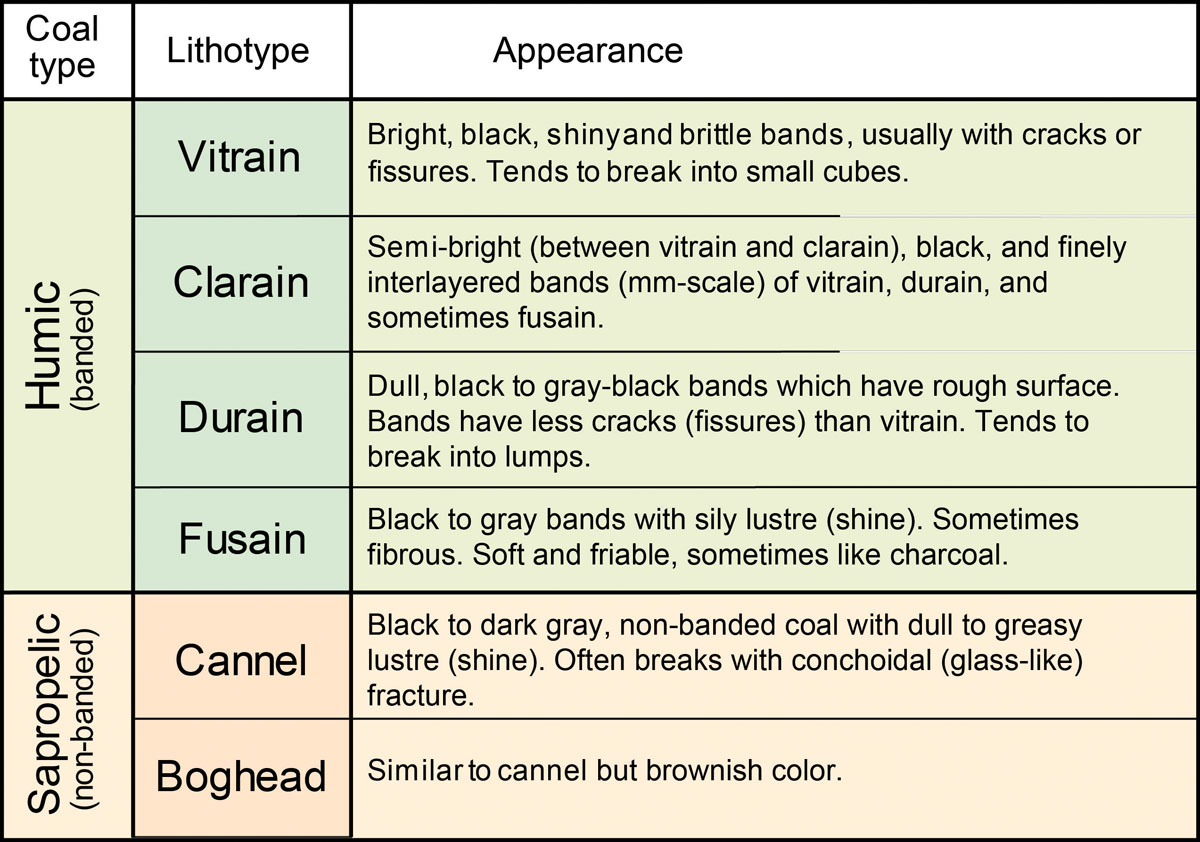 There are two basic types of coal, and both can occur in a single coal seam:
1. Humic Coals
Humic coals are banded coals. They are the most abundant type of coal. The bands of coal that comprise a humic coal are divided into four lithotypes (vitrain, clarain, durain, and fusain, Stopes, 1919) based on their general appearance. A single humic coal bed may contain all four lithotypes.
Humic Coal Lithotypes
Vitrain:

Bright, shiny (vitreous), black bands of coal, usually brittle and cut by fissures. Vitrain tends to break into small blocky pieces. It is the shiniest of the four lithotypes.

Clarain:

Semi-bright, black layers composed of very finely interlayered (or inter-banded) vitrain, durian and sometimes fusain. It is brighter than durain, but not as bright as vitrain.

Durain:

Dull, black to gray layers with a rough texture. Bands are not as bright as clarain or vitrain and have less fissures than vitrain. When broken, durain bands tend to break into irregular lumps, rather than small blocks.

Fusain:

Dull black to gray-black bands with an almost silky lustre. They may have a fine, fibrous appearance. Fusain is soft, and friable, like charcoal. Fusain bands are often responsible for the dirty hands one gets from holding a coal sample.
2. Sapropelic Coals
Sapropelic coals are non-banded coals. They are relatively uncommon, and tend to occur as single bands in parts of humic coals, rather than as whole seams, although seams comprised entirely of sapropelic coals occur. Sapropelic coals are very homogenous in appearance, and often break with a conchoidal (glass-like) fracture. Sapropelic coals are subdivided into cannel and boghead coals, which are distinguished by their microscopic components. Further subdivision of sapropelic coals is discussed in Hutton and Hower (1999).
Sapropelic Coal Lithotypes:
Cannel coals are sapropelic coals or coal bands composed almost entirely of spores and pollen. They are black to dark gray in color and very hard.
Boghead coals are sapropelic coals or coal bands composed almost entirely of algae. They are similar in appearance to cannel coals, but may be brownish.
The 10 largest coal producers and exporters in Indonesia:
Source:
Kentucky Geological Survey
Sponsor Ads
Report this Page
Created on Jul 10th 2019 02:25. Viewed 1,244 times.
Comments
No comment, be the first to comment.