A brief and interesting history of evening dresses for women
by Rocky Sheldon
Study in Czech Republic
An evening dress usually means a long flowing gown as far as women are concerned. The fabrics used in making this range of clothing merchandises are usually those luxurious ones including chiffon, organza, satin, velvet and others. Silk is one of the most popular fabrics in this context. Ball gowns and evening gowns are not exactly the same although the terms are used interchangeably. A ball gown is bound to have a full skirt and a well-fitted bodice whereas an evening gown can just be any silhouette including mermaid, sheath, trumpet-shaped or A-line and should also have dropped waist. In technical terms this drop waist is called an empire.
Early court dresses
Evening dresses for women were also called court dresses. As a matter of fact this version of dresses originated in royal courts of Europe. The earliest account of these items date back to the 15th century Burgandian court under the stylish and fashion-conscious ruler Philip the Good.
Wool was the most dominant fabric at one point of time in crafting the range of dresses. As a popular trend, ladies of the courts used to add a train to their kirtle while attending formal events. Plush fabrics and fibers were premium in cost and only the nobles could afford. Clothing played an important role in indentifying social rank and status of individuals. All these rigid social ranking systems slowly got replaced with the dawn of the Renaissance. As a result, affluent members of the society mostly merchants started displaying their wealth and clout through dresses.
The art of weaving was firmly in practice across the Mediterranean by the 1400s. Thus silk was a very popular fabric in the region although exorbitantly costly as well. Thus not many people could afford it. Dresses meant for attending court balls and other royal festivities were mostly crafted from silk that was woven intricately. Moreover it used to be trimmed with equally expensive furs. This grand designing was done to underline the social status of the wearer.
In other words the origin of evening dresses for women undeniably covers a crucial part of history. Court life in the 16th and 17th century Europe was vibrant with art, literature and music. This environment provided a fertile base for development of formal clothing for ladies. Dances, elaborate dinners and theatre productions made a way for elegant ladies of the times to showcase their finery on frequent basis. This practice reached its peak at the Italian renaissance courts.
The French connection
Gradually the Baroque era set in and the focus of Europe as well as the entire world shifted to the court of Emperor Louis XIV. At this phase the design of court dresses got revised. Now the dresses featured draped skirt with tight bodice, long trains, embroidered lace, low neckline trimmed with lace and full sleeves. The French have had a delicate choice in almost everything and their fabrics were no different. They preferred rich silk weaves like velvet, taffeta and satin to design luxurious gown for their beautiful ladies.
During the entire span of time discussed above a ball or evening dress was strongly connected to royal courts. The term 'evening or ball gown' came specifically into use in the late 18th century. This was the time following the French Revolution. Formal dances and balls were no longer hosted only by royals and nobles. Wealthy upper middle class citizens also used to host such extravagant parties in their homes. Dresses for distinguished ladies at these parties featured lower necklines, short sleeves and excessive fabrics and embroidery.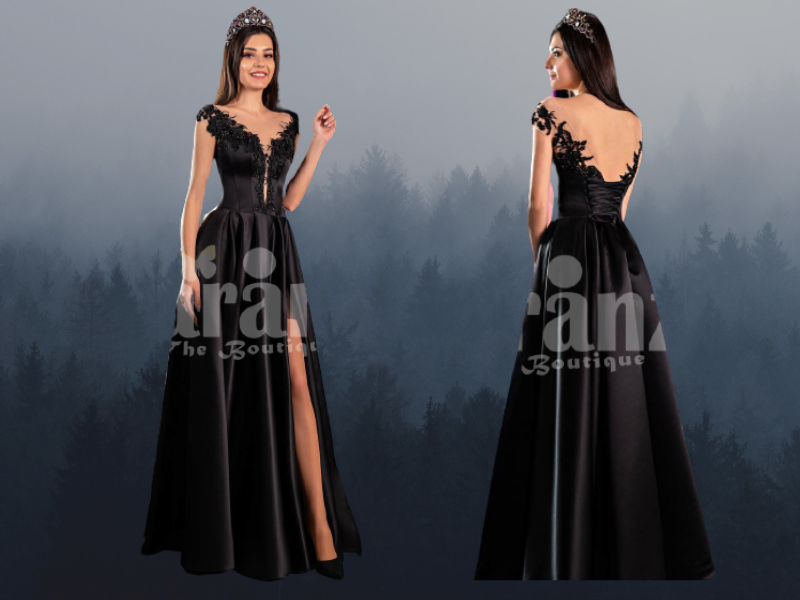 Designers crafting black evening dresses for women point out that another interesting twist came in the 19th century and the changes kept occurring frequently well into the 20th century. As lifestyle changed, dresses became more and more appropriate to fit in the modern lifestyle.
Sponsor Ads
Report this Page
Created on Apr 23rd 2021 15:55. Viewed 155 times.
Comments
No comment, be the first to comment.