720KW Shangchai Diesel generating Sets with Ce ISO
by Generator D.
Diesel Generator
On May 12, 2020, our company successfully signed a 720kw diesel generator set with Guangxi Shengshi Federal Real Estate Development Co., Ltd. under Shengbang Group, which is used as emergency standby power supply for the real estate project. This is the seventh cooperation between our company and Shengbang group. Shengbang group has purchased 7 units diesel generator sets with power range of 400KW~800KW in our company.
Shengbang group is a diversified large-scale investment group with real estate as the main part, as well as business management, property service, financial business, etc. The cooperative project covers an area of about 30000 square meters, with a total construction area of about 170000 square meters. It is composed of 6 high-rise buildings with 30 to 34 floors, and is equipped with about 8800 square meters of style commercial street. Thanks for Shengbang Group's cooperation.
1. Technical Data of 720KW Diesel Generator Set
Prime power: 720KW
Standby power: 792KW
Genset type: open type
Frequency: 50Hz
Rated current: 1296A
Rated voltage: 230/400V
Power factor:0.8lag
Diesel engine brand/model: Shangchai / SC33W1150D2
Alternator brand/model: Shanghai Kepu/ TFW2-720-4A
Control panel: SmartGen HGM6110N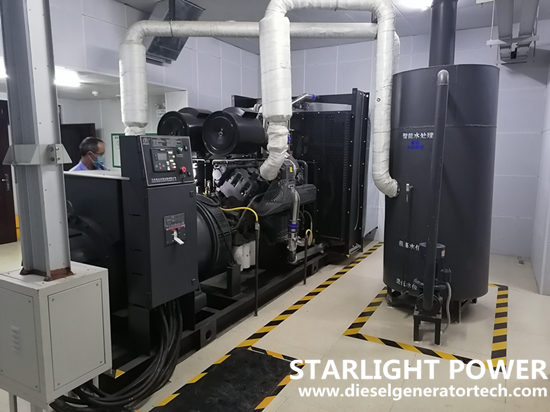 2. Features of Shangchai Diesel Engine SC33W1150D2
1.Each cylinder has four valves, and the fuel system can be equipped with electronic speed regulating mechanical pump and electric control single pump, which can effectively improve combustion and emission, work smoothly and have good economy.
2.Gantry type engine body, reasonable stiffener, good rigidity, compact structure, small vibration, low noise.
3.The split camshaft design ensures precise control of valve and injection timing. The optimized cam profile can reduce the impact force and improve the reliability and durability.
4.Equipped with electric pre-supply pump to realize automatic pre-supply oil after start-up.
3. Features of Shanghai Kepu Alternator TFW2-720-4A
TFW2 series alternator is the new electric generator. It is designed and developed after the importing of the advanced technology of the up-to-date foreign famous brand generator.
It conforms to the international IEC standards and the national GB/T 15548-95(General specification for three-phase synchronous generator driven by reciprocating internal combustion). The product features in advanced technology, novel structure, superior performance, stable operation and reliable quality.
Reliable Electrical Character
The steady-state voltage regulation rate≤±1.0%
The transient-state voltage regulation rate≤±20%—15%
The voltage setting range≥10%UN
The line-voltage sinusoidal waveform distortionrate≤5%
The voltage deviation (while the three-phase loads are out-of-blance) ≤5%
The efficiency reaches the average level of the intermational advanced standard
Serviceable Environmental Conditions
The temperature of environment air≤40℃
The altitude above sea level≤1000m
Rated frequency and rotate speed:50HZ 1500r/min;
Rated voltage:400/200V,Three-phases fourthread systems;
The relative temperature of air≤90℃%
Stable Novel Structure
The intergral salient-pole rotor is used: use special designs for iron-core ventilation; the windings are solid and have good performance in thermal radiating. The rotor has a full-damping.
The generator works stable in a paralled running together with another generator. Use cylindrical steel base.The appearance of the product is novel and delicate.
High-accuracy A.V.R(automatic voltage regulation system) is equipped on the generator. While the generator runs in a parallel mode, the AVR plays an important role, it regulates the output voltage of the generator to a rated value. The A.V. R, which is intergral sealed, also has the function of low-frequency preventing from damp, mildew and salt mist.
These series generator can be divided into many kinds by the difference in over-all strucyure. By bearing: single bearing and two bearing. By equipment: single machine(equipment with exciting case)and packaged set(equipment with control case), By front cap:axis-aiming flange cap and the cap integrated with the flange cap and the connection seat. The product features in small volume and little weight.
5. Features of Control Panel SmartGen HGM6110N
HGM6110N series automatic controller, integrating digital, intelligent and network techniques, is used for automatic control and monitoring system of genset. It can carry out functions of automatic start/stop, data measurement, alarm protection and three ―remote‖ (remote control, remote measure and remote communication). The controller uses LCD display, optional display interface including Chinese, English, Spanish, Russian,Portuguese, Turkish, Polish and French with easy and reliable operation.
Of course, we also have other brands of diesel engine, alternator and controller, if you have different requirements, welcome to send inquiry to us, we believe you will have favorite generator genset. For more details, call us +8613481024441.
Sponsor Ads
Report this Page
Created on May 31st 2020 21:12. Viewed 119 times.
Comments
No comment, be the first to comment.