640kw Cummins Container Silent Diesel Generator
by Generator D.
Diesel Generator
On July 4, 2019, customer Navin came to visit our Starlight company and the customer planned to purchase one unit 800kva Cummins silent diesel generator set for use in their factory. After the visit, the customer was very satisfied with our products. Starlight was eventually selected as their supplier of diesel genset.
On July 25, 2019, Starlight signed a contract with ADITYA BIRLA CHEMICALS (THAILAND) LTD. (CHLOR ALKALI DIVISION). This emergency diesel generator is configured as follows:
Diesel Engine: Cummins KT38-GA
Manufacturer: CHONGQING CUMMINS ENGINE COMPANY LTD
Engine General Data:
Displacement: 38L
Bore and stroke: 159 x 159mm
Compression ratio: 14.5 : 1
Aspiration: Turbocharged
Fuel system: Cummins PT
No.of cylinder: V-12
Standard: BS-5514 and DIN-6271 standards are based on ISO-3046.
Alternator: Stamford LVI634C1
Manufacturer: Cummins Generator Technologies (China) Co.,Ltd.
Standard: IEC 60034-1 ISO8528-3 MG 1-32 BS 5000-3
Controller: DEEP SEA 7320
Manufacturer: Shenzhen Haiway Technology Co.,Limited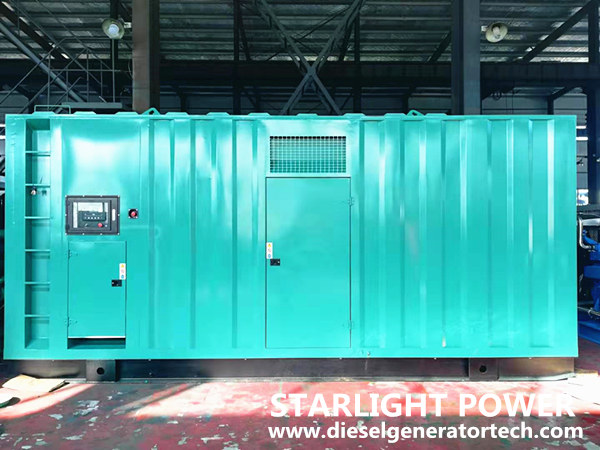 In addition, the customer also purchased some accessories (mainly wearing parts) and one unit 1500 liters of external fuel tank. Through the communication, we know that customer's company ADITYA BIRLA CHEMICALS (THAILAND) LTD. is a very powerful and well-known company. Our payment terms is irrevocable letter of credit at sight, customer trusts us, we also trust the customer, three months to prepare the production of the genset. We live up to customer expectations. On October 25, 2019, we successfully completed the manufacture of the generating set and delivered it to the customer.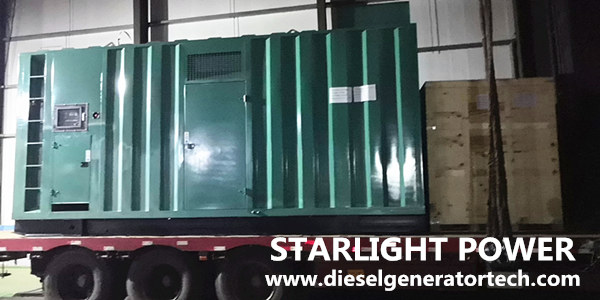 800kva Cummins silent diesel generator set has transported to Shanghai Port and it has installed on 40FR container.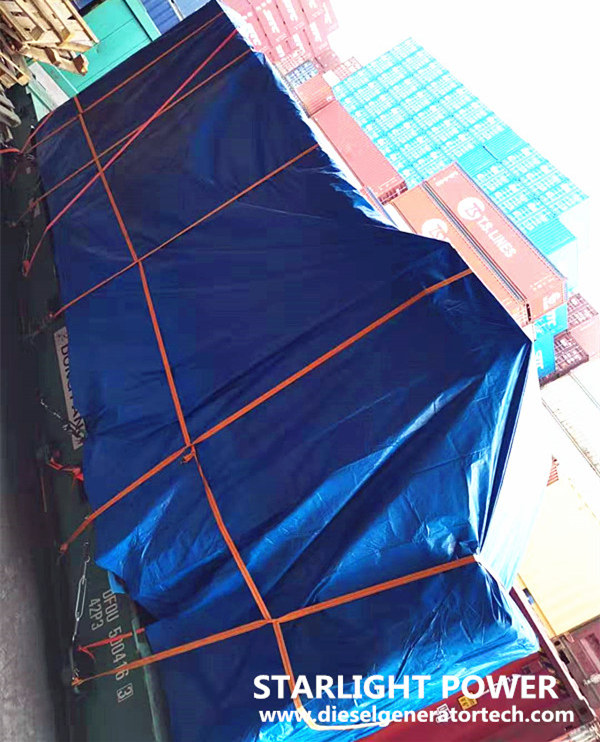 Jiangsu Starlight Electricity Equipment Co.,Ltd., is a high-tech enterprise in Jiangsu Province,established in 1974, is one of the earliest manufacturers of generators and diesel generators in China.
Starlight has strong technical research and development strength, modern production technology, professional manufacturing technology, advanced detection equipment, improve the quality management system. Can provide 20KW to 2500KW various specifications of ordinary type, automatic, four protection, automatic switching, silent and mobile generating units, high-quality, low power consumption to meet the diverse needs of customers; also meet the different voltage, different frequency use requirements;
Starlight Cummins Diesel Generator Set Characteristics:
Intake System
* Equipped with dry air filters and air resistance indicators.
* Use HOLSET exhaust gas turbocharger, full intake, performance guarantee
Exhaust System
* The use of pulse dry exhaust pipe can effectively utilize exhaust gas energy and give full play to engine performance;
* Equipped with exhaust elbow and bellows with diameter of 127mm for easy connection.
Power Output
*Crankshaft pulley with double groove power output can be installed in front of shock absorber;
*The front end of the engine is equipped with multi slot accessories for driving pulley, and all kinds of front end power output devices are available.
Fuel System
*Cummins PT fuel system with unique overspeed protection;
*Low pressure oil pipeline , low pipeline , low failure rate and high reliability;
* High pressure injection, full combustion;
*Equipped with fuel oil supply and return oil one-way valve, safe and reliable in use.
Lubrication System
* 60GAL variable flow oil pump with main oil channel signal tube, according to the oil pressure of the main oil channel to adjust the pump oil quantity, optimize the oil quantity into the engine;
* Low oil pressure (241-345kPa). These measures can reduce pump power loss, improve power performance and improve engine economy.
A 10% overload capablility is available for aperiod of 1 hour within a 12 hour period of operation. Total operating time at the 10% overload power shall not exceed 25 hours per year.
Thanks to the customer's recognition of our products, Starlight will continue to provide customers with quality-assured diesel generator sets. If you are interested in our Cummins generator, contact us by email: sales@dieselgeneratortech.com.
Sponsor Ads
Report this Page
Created on Nov 6th 2019 23:41. Viewed 179 times.
Comments
No comment, be the first to comment.