5 Ultimate Tips to Select the Best Water Purifier for Home
by Shivangi Gupta
Appliance Advisor
Planning to buy the best water purifier for home use? How will you pick one from hundreds of options available in the market? Use the tips mentioned in this post to pick the right purifier for your home.
The increasing water pollution throughout India has made water purifier a must-have for every home. While traditional methods like boiling were adequate in the past, these methods cannot eliminate the complex impurities of water now supplied to our homes.
But as there are different brands offering many types of purifiers, most buyers find it difficult to pick the best one for their home. Use the tips mentioned below, and it'll be easier to make a decision.
1. Know the Different Types of Purification Technologies
Different purification technologies are recommended depending on the quality of water. Some of the most popular technologies in India are RO, UV/UF, and gravity. Based on whether the water is hard or soft and the type of impurities dissolved, one can select the right purifier. You can now also find the best water purifier for home which uses multiple technologies, like RO + UV/UF to remove many types of impurities.
2. Are You Selecting a Reputed Brand?
The markets are filled with innumerable brands that offer different brand of water purifiers, and all of them promise to deliver the best results. Rather than relying on a brand whose name you've never even heard in the past, it is better to pick a reputed brand. Top brands are well-known for their purifiers as well as the customer service they offer. As the purifier would regularly need maintenance and filter replacement, customer service is another important consideration.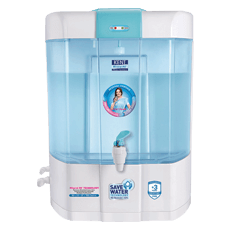 3. Certification by 3rd Party Laboratories
Only a handful of brands in India carry quality certifications from top 3rd party laboratories. There are reputed laboratories like NSF, WQA, etc. which certify the performance of the water purifiers. Stick to the best RO water purifier that has been inspected by such laboratories as they normally get certified based on their performance.
4. Purification and Storage Capacity
Depending on your household needs, you should also consider the purification and storage capacity of the water purifier. Areas with regular power cuts should consider models with a storage tank adequate to keep up with the water consumption needs of your home. Even the purification speed should be checked to make sure that the purifier is quick and convenient.
5. Additional Features
Water purifiers now come with a host of features. Double water purification, TDS controller, technology to recover more water and reduce wastage, etc. are some of the most popular features. These additional features can significantly improve the performance of the purifier. Not just performance but some purifiers also help in saving water by consuming less water to give purified water. Understand these features and match them with your requirements to make the right decision.
If there is one kitchen appliance that you should not purchase in a jiffy, it surely has to be a water purifier. Impure water can result in severe health concerns some of which can be lifelong in nature. Be responsible and pick the best water purifier for home use with the help of the tips discussed in this post.
Sponsor Ads
Report this Page
Created on May 14th 2018 07:07. Viewed 1,087 times.
Comments
No comment, be the first to comment.