300kw Electric Generators with Cummins Engine NTA855-G2A
by Starlight Generator
dieselgeneratortech
On June, 2020, Mr.Nour Fawaz from UAE contacted us by email for inquiry 300KW diesel generator, this is a tender in Ethiopia. They participated in the bidding on behalf of us. Although this is the first cooperation with Mr.Nour Fawaz and his team, and the opening time is a little long, but we are informed that we won the bid on october, 2020. This is the result of our joint efforts and cooperation with our customers. Thanks for your cooperation, Mr.Nour Fawaz and your team.
This 300KW diesel generator set is used for a project in Ethiopia, Starlight Power company finished production in only 15 days. After everything qualified, we delivered to the purchaser in Ethiopia.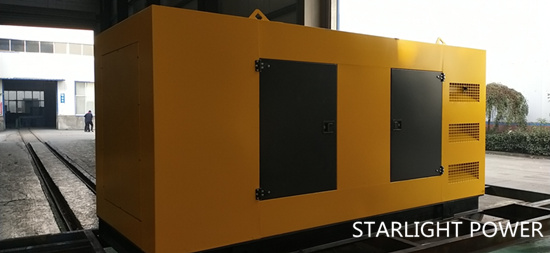 Starlight 300KW Cummins Silent Diesel Generator Exported to Ethiopia
1.Main technical specifications of 300KW silent genset
Manufacturer: Jiangsu Starlight Electricity Equipments Co.,Ltd
Output power: 300kw/375kva
Frequency/speed: 50Hz/1500rpm
Voltage: 230/400V
Power factor: 0.8lag
Diesel engine: CCEC NTA855-G2A
Alternator: Shanghai Kepu TFW2-300
Controller: SmartGen HGM6110N
Noise level at 7 meters: 75dBA
Dimensions: 4000x1600x1900mm
Weight: 3800kg
2.Technical datasheet of CCEC Cummins engine NTA855-G2A
Manufacturer: Chongqing Cummins Engine Co.,Ltd
Engine model: NTA855-G2A
Prime/standby power: 312KW/343KW
Air intake type: Turbocharged & Aftercooled
Cyliner number/Arrangement: 6 cyliner, Inline, 4 stroke
Displacement: 14L
Bore and Stroke: 140X152mm
Compression Ratio: 14.0:1
Governor Type: Electronic speed regulation
Start mode: 24V DC battery
Fuel system: Cummins PT direct injection
Fuel consumption(rated prime load):
100%:71.9L/h
75%:54.9L/h
50%: 38.9L/h
Oil Capacity: 38L
Coolant Capacity: 28L
3.Technical Specifications of Shanghai Kepu alternator TFW2-300
Manufacturer: Shanghai Kepu Generator Equipment Co.,Ltd
Alternator model: TFW2-300
Type: AC Synchronous generator, brushless, self-exciting
Overload: 10% overload can run 1 hour within 12 hours
Protection Level: IP22
Insulation Class: H
Temperature Rise: H
Voltage Regulation: automatic voltage regulation(AVR)
Number of phase and Access Act: 3 phase 4 wire
Alternator Efficiency: 95%
Bearing: Single bearing
Air Cooling Flow: 2.69m3/s
It conforms to the international IEC standards and the national GB/T 15548-95(General specification for three-phase synchronous generator driven by reciprocating internal combustion).
4.Technical specifications of SmartGen HGM6110N
Manufacturer: SmartGen(Zhengzhou) Technology Co.,Ltd.
Controller model: HGM6110N
1.Automatic controller, integrating digital, intelligent and network techniques, is used for automatic control and monitoring system of genset.
2.It can carry out functions of automatic start/stop, data measurement, alarm protection and three remote(remote control, remote measure and remote communication).
3.LCD display, optional display interface including Chinese, English, Spanish, Russian,Portuguese, Turkish, Polish and French with easy and reliable operation.
4.Circuit breaker for protection. Protection warming, shutdown alarms etc., including emergency stop, low oil pressure, overspeed, failure to start, high water temperature etc.
Every customer has different demand, we can make the diesel generator according to customers' technical requirements.
Our Cummins generators cover power 25kva to 1875kva, can make as open type, soundproof type, container type( standard size/ non standard size), trailer mobile type. Since 1974, our generator set has been used for many fields, such as hospital, data center, factory, real estate, construction site, mine, plateau, desert etc., solved the electricity problem in many places.
Now our diesel generators are for sale, welcome to send us inquiry if you are interested. Please contact our sales person email: sales@dieselgeneratortech.com. We will work with you at any time.
Sponsor Ads
Report this Page
Created on Nov 30th 2020 20:26. Viewed 116 times.
Comments
No comment, be the first to comment.