300KW Cummins genset NTAA855-G7 generators
by Generator D.
Diesel Generator
300KW Cummins genset is made by us

1.Diesel generator set specification
Genset model: XG-300GF
Engine model: Chongqing Cummins NTAA855-G7
Alternator: Wuxi Stamford HCI 444FS1
Controller: Deep Sea 7320 MKII
Country of Origin: China
Genset type: open type/silent canopy type/mobile trailer type
Manufacturer: Jiangsu Starlight Electricity Equipments Co.,Ltd.
2.Diesel engine data
General engine data
Manufacturer: Chongqing Cummins Engine Co.,Ltd.
Model:NTAA855-G7
Prime power:343KW/460HP
Standby power:377KW/505HP
Cylinders: 6
Speed: 1500 r/min
Displacement: 14L
Bore x Stroke: 140 x 152 mm
Fuel System: direct injection Cummins PT
Aspiration: Turbocharged & Air-Air Cooled
Fuel Consumption: 85.4L/h(100% prime), 64.7L/h (75% prime), 44.6L/h (50% prime), 24.6L/h(25%).
All data is based on:
--Engine operating with fuel corresponding to grade No.2-D per ASTM D975.
--ISO 3046, Part1, Standard Reference Conditions of : Barometric Pressure:100kPa(29.5in.Hg);Air Temperature:
25°C (77°F) ; Relative Humidity: 30% Output Power Fuel Consumption
--Engine Operating with fuel system, water pump, lubricating oil pump, air cleaner and exhaust silencer, fan, and optional driven components.
Reference Standards:BS-5514 and DIN-6271 standards are based on ISO-3046.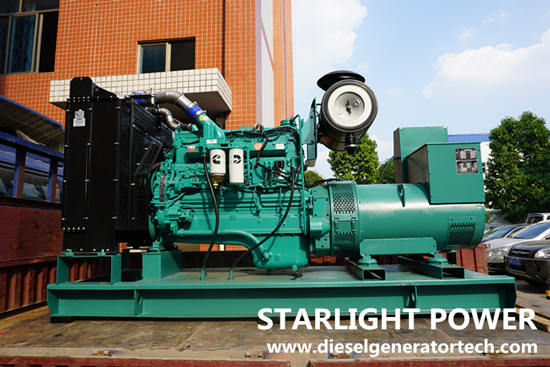 Engine mounting
Maximum Allowable Bending Moment at Rear Face of Block - 1000 lb./ft. (1356 N/m)
Exhaust system
Maximum Allowable Back Pressure -3.0in.Hg ( 10 kPa)
Standard Exhaust Pipe Diameter - 5.0in. (127mm)
Air induction system
Maximum Allowable Intake Air Restriction
-With Clean Filter Element - 3.74 in. H2O (15kPa)
-With Dirty Filter Element - 25 in. H2O (6.22 kPa)
Maximum Intake Pressure Fall from Turbo to Intake Manifold - 5.0PSI (17 kPa)
Maximum Intake Manifold Temperature Rise - 43 °F (24 °C)
Minimum Dirt Holding Capacity - 25g/CFM ( 53 g/L/s )
Cooling system
Coolant Capacity - Engine Only -5.5 U.S. gal (20.8L)
-With Radiator - 16.0U.S. gal ( 60.6 L)
Maximum Coolant Friction Head External to Engine - 6 PSI (41kPa)
Maximum Coolant Pressure (exclusive of Pressure Cap) - 40PSI (276 kPa)
Maximum Static Head of Coolant Above Engine Crank Centerline -46ft. (14.0 m)
Standard Thermostat (Modulating) Range - 180 - 202 °F (82 - 94 °C)
Minimum Allowable Pressure Cap -7.0 PSI (48.2kPa)
Maximum Coolant Temperature - 205 °F (96°C)
Maximum Top Tank Temperature - 212 °F (100°C)
Minimum Top Tank Temperature - 160°F ( 71°C)
Minimum Coolant Expansion Space - 5% of System Capacity
Minimum Coolant Makeup Capacity - U.S. gal (L)
Lubrication system
Oil Pressure @ Idle Speed - Min 15PSI (103 kPa)
@ Governed Speed - 35-50PSI (241 - 345kPa)
Maximum Allowable Oil Temperature - 250°F ( 121°C)
Oil Pan Capacity - Low / High - 7.5 / 9.5U.S. gal. (28.4 / 36.0L)
Total System Capacity - 10.2U.S. gal. (38.6L)
Angularity of Oil Pan - Front Down/Front Up/Side to Side 38°/38°/38°
Fuel system
Type Injection System Direct Injection Cummins PT
Maximum Allowable Restriction to Fuel Pump
-With Clean Fuel Filter - 4.0 in.Hg (13.5 kPa)
-With Dirty Fuel Filter - 8.0in.Hg (27.1kPa)
Maximum Allowable Head on Injector Return Line
-With Check Valve - 22.0in.Hg (6.5kPa)
-Without Check Valve - 8.5in.Hg (2.5kPa)
Minimum Fuel Supply Line Size - 0.625in. (16mm)
Minimum Fuel Return Line Size - 0.5in. ( 13mm)
Maximum Fuel Pump Supply - 98U.S.gal/h (371L)
Fuel Rail Pressure - 149PSI (1028kPa)
Maximum Fuel Temperature 71°F (160°C)
Electrical system
Minimum Recommended Battery Capacity - 24V
-Cold Soak (No Load) - 900CCA
- Minimum Reserved Capacity -320CCA
-Cold Soak (With Load) - 900CCA
- Minimum Reserved Capacity - 320CCA
Maximum Allowable Resistance of Cranking Circuit - 0.002ohm. Standard Cranking Motor (Heavy Duty , Positive Engagement)24volt. Standard Battery Charging System. Negative Ground 35Ampere.
Performance data
Idle Speed -575-650r/min
Maximum No-Load Governed Speed -1800r/min
Maximum over Speed Capability - 2700r/min
Minimum Crankshaft Rotation for unaided Cold Start - 150r/min
Minimum Torque for unaided Cold Start - 375lb.ft. (509Nm)
Exhaust Sound Pressure at 1m from Exhaust Outlet -1500r/min -dBA N/A
3.Alternator data
Alternator: Wuxi Stamford HCI 444FS1
Sponsor Ads
Report this Page
Created on Apr 14th 2020 03:57. Viewed 160 times.
Comments
No comment, be the first to comment.