20 Most Profitable Ecommerce Business Niches To Try in 2020 Part 2
by Czarina R.
Content Manager and SEO
This is the second half of the article 20 most profitable ecommerce niches to try in 2020.
The first part of this article which contains the top 10 most profitable ecommerce business niches to try in 2020 is found here.
Several Niches made surprising realty in the top 10
There were several niches that I didn't think are going to be in the top 10 that has made their way there. To say that I am surprised is an under-statement. I was literally stunned, especially the Waste Management niche, and Senior Living taking the #1 niche overall is unbelievable!
I was expecting Fashion and Technology niches to take the 1 and 2 spot with how saturated and rampant these niches are in the web today! Them taking the 4th and 10th spot respectively was a little disappointing. But still, the industry volume is still such at a high level with 713 Billion for Fashion and 351 Billion for Technology! There is still plenty of opportunity to make money in these niches!
The top 10 profitable ecommerce business niches with projected sales volume.
#1. Senior Living 1 Trillion, #1 in the top 20 most profitable ecommerce niches
#2. Online travel = USD 817 billion
#3. Augmented reality and virtual reality = USD 767 billion
#4. Fashion = USD 713 billion
#5. Waste management = USD 484 billion
#6. Automotive tire market = USD 453 billion
#7. Home healthcare = USD 447 billion
#8. Cloud migration = USD 411 billion
#9. Dietary supplements = USD 349 billion
#10. Technology = USD 351 billion
Before we continue with the list, we want to stress the importance of having your ecommerce shop built on a reliable ecommerce system. Contact us about this using the contact page if you need help regarding development.
#11. Athleisure = USD 350 billion by 2020
This niche is probably the most surprising one that cracked the top 20, and at 11th is just a tad short of entering the top 10 most profitable niche in the next 5 years!
Athleisure is a term made popular by the New York-based fashion industry 20 years after lululemon got its start. It describes a category of clothing meant to look athletic, but with no inherent technical function. Put simply, it's the antithesis of the business I love.
Athlesure has nothing to do with an athletic uniforms. It is the "athletic-look" fashions that have muddied the waters of real technical clothing. It is simply called "active wear". Yes, I think that is more understandable as seen in the photo below. Credit not ours: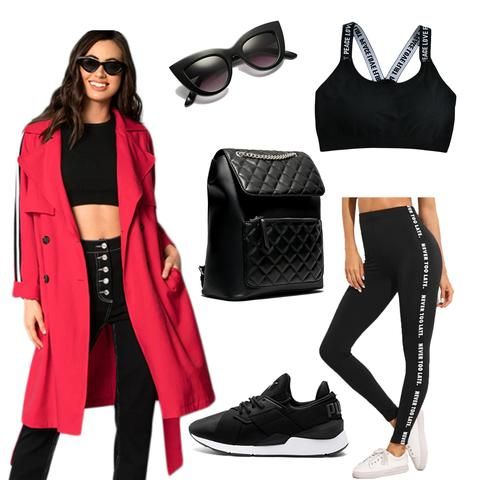 #12. Gardening = USD 299 billion by 2022
In the UK along, people are spending an average of £24 billion per year on gardening products, representing 1/4th of the total gardening sales for 2019.
"While many consumers prefer in-person purchases for their garden goods, the growth of online horticultural retailing reflects the wider consumer trend towards internet shopping," found a report by Oxford Economics commissioned by the body last year. "Consumer research shows that around £1 in every £10 of expenditure on garden plants is now spent online."
Soak in the following data:
According to analyst firm IMRG, garden was the fourth-strongest growth category in 2018, up 18% for the year as a whole – a figure which includes outdoor furniture sales.
Millais Nurseries, which runs Rhododendrons.co.uk, reported online sales growth of 40% last year. The firm worked with eCommerce agency Iconography to revamp its website, which went live last August.
Incredible growth in the gardening industry! If you are not set on your niche yet, this is the one to grab!
#13. Graphic Processing Unit(Graphic Cards) = USD 157 billion by 2022
The demand for the GPU market is expected to rise during the forecast period across the globe. It is due to constant changes in the graphic games, augmented reality (AR) &virtual reality (VR) gaining traction, and artificial intelligence (AI).
GPUs have been transformed to general purpose graphical processing units and can be viewed as external devices that can perform parallel computations for problems that don't only involve graphics.
Lately, GPUs have experienced a tremendous growth, mainly driven by the gaming industry. GPUs are now considered to be programmable architectures and devices consisting of several many-core processors capable of running hundreds of thousands of threads concurrently.
#14. Webhosting services = USD 154 billion by 2022
Here is what the experts said in 2018 about the growth of the webhosting services niche.
The global web hosting services market size will grow by USD 72.79 billion during 2019-2023 at a CAGR of over 13%. Growth of the e-commerce market and the implementation of AI in web hosting are some of the factors expected to drive market growth
The real growth is double that of the projected growth and that is an awesome facts for ecommerce retailers! 2020 is a good year to get into webhosting services niche again!
#15. Cooking = USD 143 billion
Discover this hot $143 billion dollar niche and how you can profit from it.
You won't believe how many people are ready to order a selection of smoothies for the next 2-3 days instead of making them. That's proof people will pay for convenience.
Healthy meal deliveries are a growing niche too as more and more people can afford to order freshly cooked lunch at the office or a weekly family menu.
#16. Wireless connectivity = USD 127 billion
The growth of the wireless connectivity market is driven by the advancements in the telecommunications industry and high adoption of smartphones, increased demand for wireless sensor networks for creating smart infrastructure, increased demand for low-power wide-area (LPWA) networks in IoT applications, significant increase in the internet penetration rate, and rise in the adoption of IoT. Moreover, significant financial support from governments across the world for R&D in the Internet of Things, emerging needs for cross-domain applications, and proliferation of Wi-Fi as wireless connectivity standard in consumer and enterprise sectors are some major opportunities for the growth of the market.
Get ahead of others. Get into this industry while it is still growing at a remarkable tune of USD 127 billion pace!
#17. Cloud Storage = USD 112 billion by 2022
With an increase in the adoption rate of cloud computing among businesses across all platforms, the cloud storage market is expected to gain major traction during the forecast period. Primary storage solutions store the data generated directly through various business processes and applications.
Market growth is strong. The enterprise SaaS market is now generating USD 20 billion in quarterly revenues for software vendors, a number that is growing by 32 percent per year, while the worldwide public cloud services market had a projected growth of 17.3 percent in 2019.
#18. Baby care = USD 109 billion by 2026
In the last 40 years the population of our planet has almost doubled to 7.6 billion people. 386,000 babies are born every single day. Not only that, but parents are "raving fan" spenders. New parents spend an average of $4,000 per year to care for, clothe and feed their baby.
Sub-niches within this market include Amazon affiliate marketing sites, how to organize baby showers, and sites dedicated to baby names. You could create a blog dedicated to first-time parents who are in their late 30s. Or a blog about the adoption process in different countries. Even Spencer has dipped into this niche when he bought a mom blog.
So yeah, the opportunities within this niche are pretty much unlimited.
People in this market are willing to pay almost anything to ensure their families get the best possible start in life.
#19. Kitchen appliances and equipment = USD 112 billion by 2025
The global kitchen appliances and equipment market is forecasted to register a growth of 14.12% up until 2025.
With pacing technological advancements, the kitchen concept has gone through very radical change, with a major focus on increasing efficiency around the kitchen and reducing the time spent in cleaning and cooking.
Customers of the global market have started to link technological advancement as an indication of prosperity and are spending a disproportionate amount on beautifying their homes. This has led to the growth of the smart kitchen appliances market over the forecast period.
#20. Home decore = USD 100 billion by 2023
Home decor takes the 20th spot on this list. This niche offers something for every dropshipper. Any novice ecommerce business benefits from the niche's steady, even performance. They can fill a store with timeless classics, styles that never go out of style, and then slowly expand from there. This niche is a good space to play and learn.
People love to decorate homes they live in whether they rent or own an apartment, people like to decorate their living places and make it feel like home.
This is why the global home decor market is expected to hit $100 billion dollars by 2020. As a result, the niche tends to be in steady demand, and there is a lot of money to be made.
If you are struggling to decide, or you need more data to work with, use the following five steps to find your niche.
Identify your interests and passions. This may be something you've already done. ...
Identify problems you can solve. ...
Research your competition. ...
Determine the profitability of your niche. ...
Test your idea.
Helpful resources
Data-Driven Ecommerce Strategy: 5 Easy Steps to Implement
Where Should You Focus Your Ecommerce Marketing Efforts First?
Report this Page
Created on Jan 14th 2020 05:10. Viewed 380 times.
Comments
No comment, be the first to comment.