Launch X431 IV Auto Scanner
by Amy Joe
China Car Diagnostic Tool Shopping Guidance
Launch X431 IV Description:
Launch X431 IV Auto Scanner is the newly auto scanner from LAUNCH, which improved the features and function based on all feedback from the user's served by the X431 in their respectively fields of works. Compact Smartbox , main unit, printer, powerful diagnostic functions, fast and convenient update, universal 16PIN connectors, make it the first choice for technicians. X-431 IV Auto Scanner is the standard equipment for technicians.
Launch X431 IV is an classic,economical,simple,steady vehicle diagnostic tool newly released by Launch. It follows the open platform of X431 series, also it inherits many advantages of X431 including a wide coverage of vehicle models, powerful testing functions and accurate test data. At the same time,the unique rotatable diagnostic connector design is convenient for use's operating.It's a cost-effective diagnostic product on the market.
Launch X-431 IV Auto Scanner Master Update Version
Launch X431 IV Auto Scanner--- X431 Master perfect replacement. Better performance than X431 Master, can support Australian Holden and Ford, Indian car model, and also support 12V/24V car models.
Update: Free Online update for one year
Language: Simplified Chinese, Traditional Chinese, English, German, Spanish, Portuguese, Turkish, Russian, French, Polish, Italian, Japanese, Greek, Dutch, Hungarian, Arabic, Serbian, Romanian, Danish , Farsi, Finnish, Swedish, Czech
Attention: All the languages do not support to all the car modules, some modules only have English Version, please pay attention to it.
Launch X431 IV Feature:
* Performance / Speed: The Launch X431 IV Auto Scanner is now a whole unit (permanently connected) means the communication time between Smartbox and main unit is reduced.
* Appearance: The Launch X431 IV Auto Scanner has a new designed and cover made from high quality materials to stand in a new market.
* Connector: The Launch X431 IV Auto Scanner has a new connector to replace all CAN Bus and OBD Connector called OBDII 16E connector.
* Power source: The X-431 IV Auto Scanner can support 12V and 24V means not only small vehicles but also big vehicles can tested.
* Speed: Launch X431 IV Auto Scanner faster than X431 Master
* Measurement: Launch X431 IV Auto Scanner small than X431 Master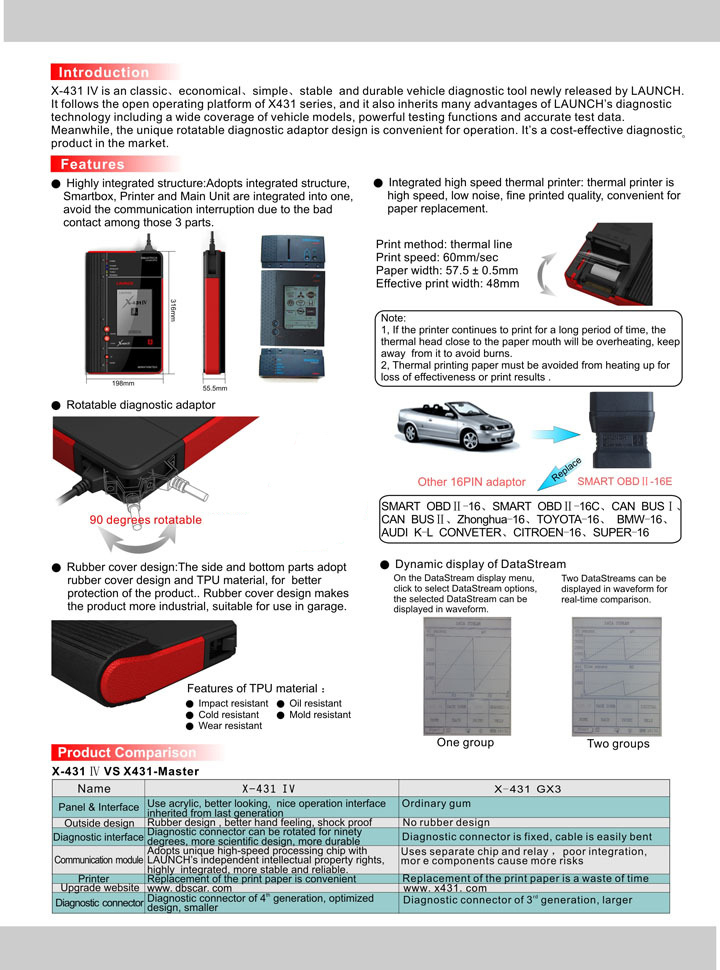 Launch X431 IV Functions:
a) Diagnostic functions: trouble diagnosis of automotive ECU's; (Features including: read trouble code, clear trouble code, read data stream and special features), the diagnostic software completely consistent with that of X431, fully inherited the advantages of X431 including wide coverage of vehicle models and high precision test;
b) PDA functions: (handwriting with stylus, personal data management,English-Chinese dictionary, etc.);
c) Optional functions: creation of repair files and access to maintenance data);
d) Mini printer (can be used with X431PCCENTER to connect to the computer for storage of vehicle test data )
Launch X431 IV Car List:
Demo,Smart diagnostic software,Smart OBDII
America: America Ford,Chrysler,GM,Acrus,INFINITI,Lexus.
Australia: Australia Ford,Holden
Brazil: Brazil GM
India: Indonesia Daihatsu,Indonesia Suzuki,Mahindra,MARUTI,TATA
Japan: Daihatsu,Honda,JPIsuzu,Mazda,Mitsubishi,Nissan,Subaru,Suzuki,Toyota
Europe: Audi,Benz,BMW,Citroen,Europe Ford,Fiat,Jaguar,Lancia,Landrover,Opel,Peugeot,Porsche,Renault,Romeo,Rover,Saab,Seat,Skoda,Transporter&V-Class,Volkswagen,Volvo
China:Brilliance,BYD,Changan,ChangCheng,Changhe,Chery,GEELY,Gonow,HaFei,JAC,Jiangling,SGMW,Tianjin,Xiamen Golden,XinKai,ZhongShun,Zhongxing,ZOTYE
Korea: Daewoo,Hyundai,Kia,Ssangyong
Malaysia: Perodua,Proton
Russia: GAZ,VAZ
S.Africa: S.Africa Opel
Thailand: Thailand Isuzu
Launch X431 IV Specifications:
* Operating System: LINUX
* Memory: 16M
* CF Card: 512M
* Main Unit I/O: Universal Serial Bus /Standard Parallel port
* Main Unit Voltage: DC12V / 24V
* Main Unit Power: approximately 9W
* Printer: Thermal mini-printer
* Display Screen: 240X320 LCD with touch screen and backlit
* Components: Main unit, Smartbox and Miniprinter
* Ambient temperature: -10-55°C
* Relative Humidity: <90%
* Measurement:198*316-55.5mm
FAQ:
Q: The accessory between X431 IV and Master can be used universally ?
A:Can not,because the connector of the main USB cable is different.
Function Improvement:
Item

Notes on Improvement

Update Date

Nissan Diagnostic Software for X-431 Series V41.40

Compared with the previous version (V41.30),
1. The LASER, HYBRID SYSTEM, and BSW/Blind Spot Warning have been added.
2. For following models, the existing systems (CAN BUS) (including ENGINE, BCM, AIR BAG, HVAC, AT, EPS, AUTO BACK DOOR, and E-SUS systems) have been updated.
2007 PATROL, 2008 ALTIMA Hybrid, 2010 ELGRAND, 2011 MURANO, and 2009 FUGA, etc., models.
3. For manual mode, the 16PIN and 14PIN submenus and tested 14PIN DLC models have been added.
4. For automatic searching mode, the search per protocol mode has been added.
5. For smart key system, the disconnection problem of read data stream function has been revised.

2013-1-16

Mazda Diagnostic Software for X-431 Series V38.10

Compared with the previous version (V38.00),
1. The following models with specific engine types have been improved.
(1) CX-5 model: 2.0L(PE)
(2) PREMACY/MAZDA5 models: 1.8L(L8), 2.0L(LF), and 2.5L(L5)
(3) Biante(Japan) model: 2.0L(LF)
(4) AXELA/MAZDA3 models: 1.6L(Z6), and 2.0L(LF)
(5) CX-7(Europe/General Specs.) models: 2.2L(R2_T), and 2.3L(L3_T)
(6) CX-7(Japan/General Specs.) models: 2.3L(L3_T), and 2.5L(L5)
(7) CX-7(North America/General Specs.) models: 2.3L(L3_T), and 2.5L(L5)
(8) Ranger/Mazda B-Series/Courier models: 2.2L(Duratorq-Turbo Diesel Common Rail Injection), and 3.2L(Duratorq-Turbo Diesel Common Rail Injection)
2. The text libraries in German, Spanish, French, Greek, Italian, Japanese, Portuguese, Russian, simplified Chinese, and traditional Chinese, etc., have been updated.

For the above-mentioned models, the improved systems include ABS, ACM, DDM, FCDIM, HVAC, ICM, PAM, PCM, PDM, RCM, SRM, TBM, TCM, and TRM.
with read DTCs, clear DTCs, and read data streams functions.

2013-1
We also have other products such as launch x431 master, launch x431 gds,launch x431 GX3 and so on. If you think they are useful to you,please contact me. I will try my best to solve your problems.
Report this Page
Created on Dec 31st 1969 19:00. Viewed 0 times.
Comments
No comment, be the first to comment.