Want Something Sweet and Kosher? Try Out These two great Kosher Dessert Recipes!
by Kosher River Cruise
Kosher Tour Operator
Food and travel are two things that are seemingly entwined with each other. Traveling to new locations lets us sample new food, after all. Some of us have been craving food and travel in the past few months, but alas, we can't do the latter, at least until conditions get better.
While
kosher Europe tours
will have to wait, a delectable dinner with great kosher dessert doesn't have to wait out the quarantine season. In a way, you'll let yourself travel by sampling great meals that are popular in other parts of the world. Here are some delicious kosher dessert recipes for you to enjoy.
Try Some All-Green Snacks with these Vegan Black Tahini Truffles (Kosher.com)
There's a big overlap between kosher cuisine and vegan recipes. Because of vegan foods' emphasis on all-green ingredients without any animal products (meat, butter, dairy, seafoods), a lot of non-kosher components are removed from the equation, so any home-made vegan dishes are guaranteed to be kosher and pareve (it's a bit more blurry in vegan restaurants, since the equipment used to make the dishes there might not be kosher.) With that said, a good number of vegan desserts will surely gratify your taste buds, such as this vegan black tahini truffle recipe from Kosher.com.
Check it out here:
Taste the Sweet Food of Jerusalem with This Marble Halva Recipe (JamieGeller.com)
Halva is a thick, brick-shaped confection that was widespread in the Middle East, Central/South Asia, and other locales where Jews lived. This sweet confection is also enjoyed in Israel, where it is made using tahini. Shoshana Ohriner of JamieGeller.com presents their own rendition of a marble halva recipe, a sweet delight made with chocolate, vanilla extract and sesame tahini.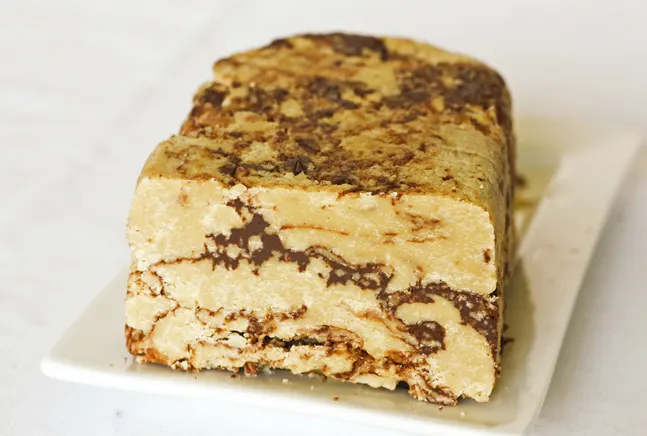 Sponsor Ads
Report this Page
Created on Jul 7th 2020 01:28. Viewed 489 times.
Comments
No comment, be the first to comment.