Northern Lights DIY pre-engineered solar water heating systems are perfectly designed kits. They can be installed by the homeowners effortlessly. For the installation process, you won't need any prior knowledge of solar water heating. The pre-packaged solar water heaters come with every component you need for your project. Please check this post and know how to install solar water heater at your home.
Generally, Northern Lights solar water heating kits are available with detailed installation manual that covers the complete installation process. In fact, you will get excellent customer support from Northern Lights.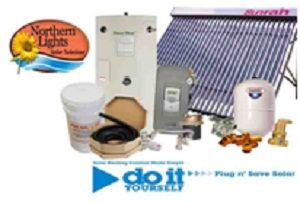 In some circumstances if the collectors are mounted on a roof, a homeowner without any roof experience might hire a roofer to get this job done. However, the remaining part of the system can be done by just any homeowner with minimal tools.
While installing solar water heater, you will need to know the place where you want to place the collectors. Ultimately, this will determine the overall performance of water heating system.
Location –
However, you need to choose a location that improves the southern exposure with less shading. A roof in the south for winter may be perfect. If it is shaded by the foliage from large trees during summer, it will minimize the performance in summer.
You shouldn't stress much if your location is not exactly south. The vacuum tubes will perform well if the direction remains between SW-SE.
Mounting Angle –
You will need to determine the mounting angle of the solar water heater. The rule of thumb for maximum performance is the angle that fits the latitude of the project. If your latitude is 30N, you have a tilt angle of 30 degree.
If you need seasonal heating like solar pool heater in summer or solar spa heater in winter, you have to adjust the angle +/- 15 degrees. A pool heater will provide maximum performance in summer at 15 degree angle and latitude 30. For space heating purposes, 45 degrees would be perfect.
Check for parts –
Buying installing Northern Lights solar water heating systems make sure that you have all the parts you need. This means, you won't need to run to a hardware store every time.
There is no necessity of soldering and special electrical hook up as you will have Arora Flex Stainless Steel Piping and easy fittings. You can tighten the fittings through a wrench. When your solar water heating kit is all set up, you just need to plug into a 110 V standard wall outlet.
Installation Process –
When choosing a solar water heating, you can have the option to install as a pre-heat or supplemental system. All of their water tanks are equipped with an internal 4.5 Kw heating element that you can choose to activate or not.
In a pre-heat system, the solar water tank would be only for the storage and no element would be utilized. The heat exchanger present in the bottom of tank heats up water inside the tank. The solar tank is added in series with the existing hot water tank. In this way, when you use hot water, the primary tank is always replaced by warm solar heated water.
In a supplemental water heating system, you can use the solar tank as the primary heating source and the electric element to supplement the solar heat. This means, you will have hot water even during the evening.
Moreover, a supplemental solar water heating system is ideal for new home construction, limited space and while replacing an existing water heating system. The supplemental solar water heater uses only one tank which saves more on installation costs.
Bottom Line –
Northern Lights solar water heating system is an important yet beneficial purchase that will help you get higher returns on your investment. The solar water heating kit is easy to install and operate ensuring maximum savings on installation costs and utility bills. Buy Northern Lights solar water heater today and take advantage of year around hot water at affordable prices.
This article is written by 123 Zero Energy, specializing in creating Zero Energy Home provides a comprehensive selection of pre-packaged and pre-engineered solar water heating kits at fair prices. For more information click here