The Best Hearty Kosher Soup Recipes
by Ben Goodman
***
The winter season is almost here which means it's time to hit the kitchen and make some hearty kosher soups! In the midst of the pandemic, it may be hard to go out and have glatt kosher vacations, so you might as well make some delicious food at home. Soups are great for any occasion, but nothing beats a warm bowl of chilli or veggie soup during the cold weather.
Here are some of the best kosher soups to make this Hanukkah season.
Speedy Ramen Japanese Noodle Soup by Nadine Horn and Jörg Mayer
You wouldn't really associate Japanese cuisine with kosher dishes but with this Ramen noodle soup, expect a delicious and filling vegetarian-friendly dish. The rich broth mixed with fresh vegetables, spices and miso, accompanied with lightly toasted tofu give the soup a wide variety of flavors and personality. Don't miss out on this delicious vegetarian ramen recipe.
Get the recipe here https://www.kosher.com/recipe/speedy-ramen-japanese-noodle-soup-9716
Matzoball Chicken Soup presented by Mila of Girl and the Kitchen
Chicken soup is a basic dish made to cure the seasonal flu but the Matzoball chicken soup bring a tasty Jewish twist. Tenderly made chicken balls, mixed with spices and herbs added into a light chicken and veggie broth give the perfect nostalgic feeling as with all chicken soups.
Get the amazing recipe here https://girlandthekitchen.com/jewish-chicken-soup-with-matzo-balls-the-real-jewish-penicillin/
Thick & Hearty Split Pea Soup by Daniella Silver and Norene Gilletz
Creamy, thick and delicious, this healthy Split pea soup is filled with fresh chopped vegetables, spices and plenty of aromatic herbs. The savory and delightful soup will definitely make you full and satisfied.
Get the recipe here at https://koshereye.com/best-kosher-recipes/soups/3926-thick-hearty-split-pea-soup.html
Gazpacho with Curry Cream courtesy of The Kosher Channel
Gazpacho is a cold soup mixed with fresh tomatoes, spices, sour cream, curry powder and mayonnaise too! Although mayonnaise doesn't quite fit into soups, it gives this dish a creamy and thick consistency that will surely fill you up!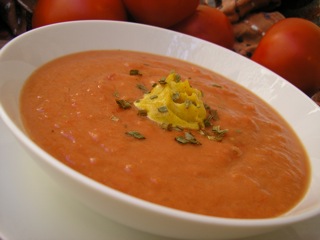 Sponsor Ads
Report this Page
Created on Dec 22nd 2021 02:10. Viewed 173 times.
Comments
No comment, be the first to comment.