The Basics of Exhaust Gas Analyzers
by Rob J.
Quality Links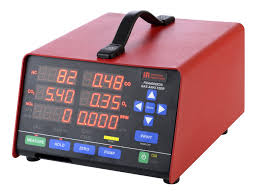 Certain fumes such as CO2 and CO can be harmful to your engine. A certain amount can affect the machine's performance and potentially lead to combustion. But, an exhaust gas analyzer can provide you with data regarding the status of your vehicle so you can make necessary adjustments. Here's some information that'll help you choose the right device for your automobile.
What It Is
A CO2 exhaust gas analyzer is used to measure carbon dioxide as well as other fumes in an engine's exhaust. Modern auto shops use this device to ensure that their vehicles are always at maximum performance. It also detects potential compliance issues with the machine.
Its Different Purposes
Sometimes, the fuel supply in a pipe system is disproportionately higher than the amount of air. This leads to unsafe levels of carbon monoxide in the system. When this happens, there's a higher risk of engine malfunction or fire.
An exhaust gas analyzer can prevent this by detecting excess carbon monoxide in the unit. It also provides adequate feedback so mechanics can perform appropriate adjustments to address motor problems promptly.
Exhaust analyzers can also be beneficial to the environment. Optimized fuel and air input can reduce emission of pollutants, such as nitric oxide (NO), nitrogen dioxide (NO2), and sulfur dioxide (SO2).
Types of Analyzers
An exhaust gas analyzer has different types, ranging from simple and inexpensive to high-end and complex. Basic variants are the most cost-effective ones. They're often only used to identify leaks in an engine system.
The more expensive devices offer various additional features, such as using smoke to detect engine leaks. Advanced analyzer models are highly automated, which allows the user to focus on the result and the reading of their vehicle.
High-end models offer the most features. Most options in this category can be connected to a printer and modem and provide a complete analysis of results. This grants the mechanic fast access to the data and possible solutions.
When choosing a CO2 exhaust gas analyzer, make sure that its specifications fit your engine's needs. It may do well with just a basic model, or it might need a more complex one. Evaluate your machine first and conduct thorough research on the different types. This will ensure that the device you select will help maximize your machine's performance and address issues efficiently.
Sponsor Ads
Report this Page
Created on Oct 26th 2019 19:31. Viewed 747 times.
Comments
No comment, be the first to comment.