Roll-Off Commercial Dumpster Rental | 10, 20 and 30 Yard Dumpster Rental
by PRC Agency
PR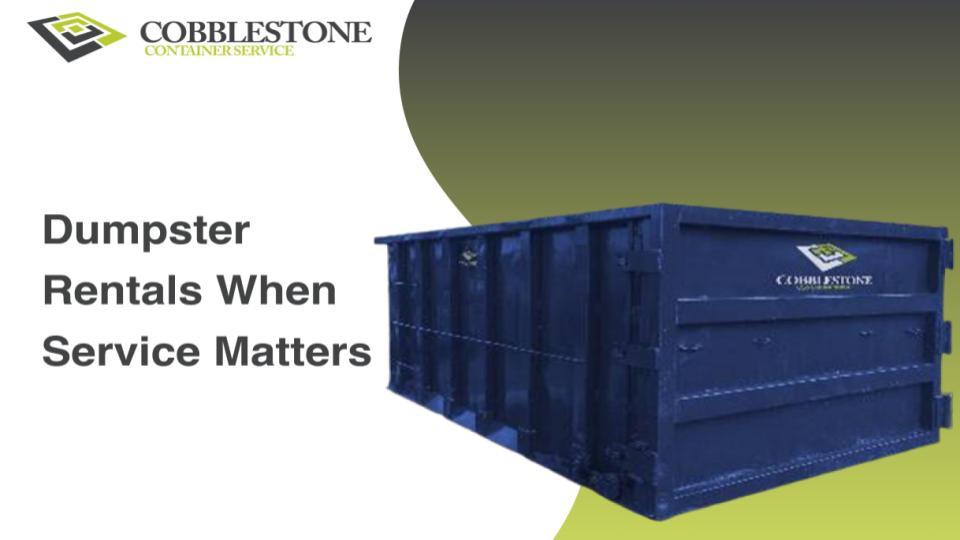 The Cobblestone Container Service is your go-to provider when it comes to commercial roll-off dumpsters. They provide 10-yard, 20-yard, and 30-yard containers anywhere in the wider Philadelphia area. Whatever your project, they have you covered.
Go to https://cobblestonecontainers.com/services/commercial-dumpster-rental for more information.
Most notably, Cobblestone Container Service has seen an uptick in residential renovation projects, which can be attributed to a range of factors. In response to a growing number of requests, the company's solutions provide you with rapid drop-off and pick-up, and they can handle most types of waste.
If you're considering home improvements, you certainly aren't alone. The Joint Center for Housing Studies at Harvard University reports that growing home renovation activity is being fueled by rising house prices, strong home sales, and high incomes. The Philadelphia region is no exception, which the center projects will see a 14.9% increase in home improvement spending this year.
Of course, waste management is an important consideration if you're undertaking a home remodeling project. However, Cobblestone understands that you might have forgotten to arrange something. The contractor now has additional resources at its West Chester base, allowing it to respond to short notice requests more efficiently.
Visit https://cobblestonecontainers.com/20-yard-dumpster-rental to find out more.
A variety of home renovation needs can also be met. If you're doing a smaller project, such as a kitchen or bathroom refurbishment, the company suggests that 10-yard dumpsters are usually sufficient. Larger projects, including home or business construction, can be supported by 20-yard and 30-yard containers. Of course, they can support all of them.
For additional information please see: https://cobblestonecontainers.com/10-yard-dumpster-rental
About Cobblestone Container Service
Established more than a decade ago, Cobblestone Container Service has seen considerable growth in the intervening years, while remaining a family owned and operated business. In addition to directly servicing Pennsylvania communities, the contractor has established partnerships with a nationwide network of haulers, allowing it to offer solutions further afield.
One local business client recently stated: "We've had great experiences working with Cobblestone Container Service. When we schedule a drop-off or pickup, they are always there when we need them. If there are any issues, the team is always available to resolve the situation. Cobblestone takes care of all of our waste disposal needs and we can't recommend them any more highly."
The easiest way to tick the waste management box is to contact Cobblestone Container Service.
See how they can support your project today. Check out https://cobblestonecontainers.com/30-yard-dumpster-rental so you can learn more.
Sponsor Ads
Report this Page
Created on May 26th 2022 02:03. Viewed 201 times.
Comments
No comment, be the first to comment.