PLN launches coal terminal for 2 x 1050MW Ultra-Supercritical Power Plant Jawa 7, Indonesia
by Rudy P.
SysAdmin at howtofindthemoney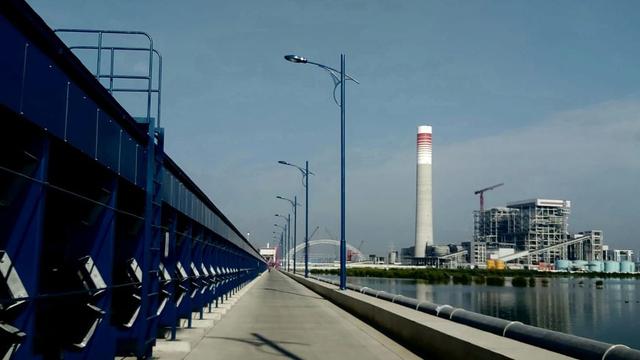 As an effort to accelerate the development of Coal Fired Steam Power Plant (PLTU) Jawa 7 capacity 2x1050 MW, PT PLN (Indonesian government-owned corporation) inaugurated the first operation of coal terminal PLTU Jawa 7 on Friday, 5 July 2019.
The inauguration ceremony located in Terate village, Kramatwatu District, Serang, Banten was also attended by President Director of PJB Iwan Agung and President Director PJBi Gunawan became a symbol of the readiness of coal supply in supporting the operation of PLTU Jawa 7.
PLTU Jawa 7 is planned to start commercial operations to support the supply of Java-Bali system on October 2019 for Unit 1 and April 2020 for Unit 2.
Haryanto said that the inauguration of the coal terminal became a crucial point in accelerating the development of PLTU Jawa 7. With the coal terminal, it can be done in various series of performance tests such as Realibility Run Test, Boiler Test until it gets certificate of operation, thus accelerating the process to COD.
PLTU Jawa 7 will be the first and the largest Coal Fired Steam Power Plant in Indonesia that use Ultra Supercritical Boiler Technology (USC), with low rank coal fuel that has a calorie value of 4,000 to 4,600 kCal/kg, consuming about seven million tonnes per year.
USC technology can increase generator efficiency by 15 percent higher than non USC thereby lowering fuel cost per kWh. In addition, PLTU Jawa 7 in its operation using SWFGD (Sea Water Fuel Gas Desulfurization), so it is very environmentally friendly.
Previously, PLTU Jawa 7 project worth US $1.88 billion at groundbreaking on August 5, 2017 by Indonesian President Joko Widodo, until now the progress of the development of Unit 1 generator reached 99.08 percent per may 2019. Later power generator will be channeled to strengthen the interconnection system of Java-Bali through Suralaya - Balaraja 500 kV network.
PT. Guohua Taidian Pembangkitan Jawa Bali (GHPJB) is O&M services company for Jawa 7 Coal Fired Steam Power Plant (CFSPP) which is established on October 26th, 2016. The Investment comes from China Energy Investment Group Co., Ltd. and the subsidiary of PT. PLN (Persero), PT. Pembangkitan Jawa Bali. It is located in Serang, Banten and will be the first 2x1050MW Ultra-Supercritical Power Plant in Indonesia in 2019.
The 10 largest coal producers and exporters in Indonesia:
Source:
Media Indonesia
Sponsor Ads
Report this Page
Created on Jul 7th 2019 09:15. Viewed 467 times.
Comments
No comment, be the first to comment.