New Handmade Orange Mermaid Natural Candle Kit Is Calming & Clean-Burning
by PRC Agency
PR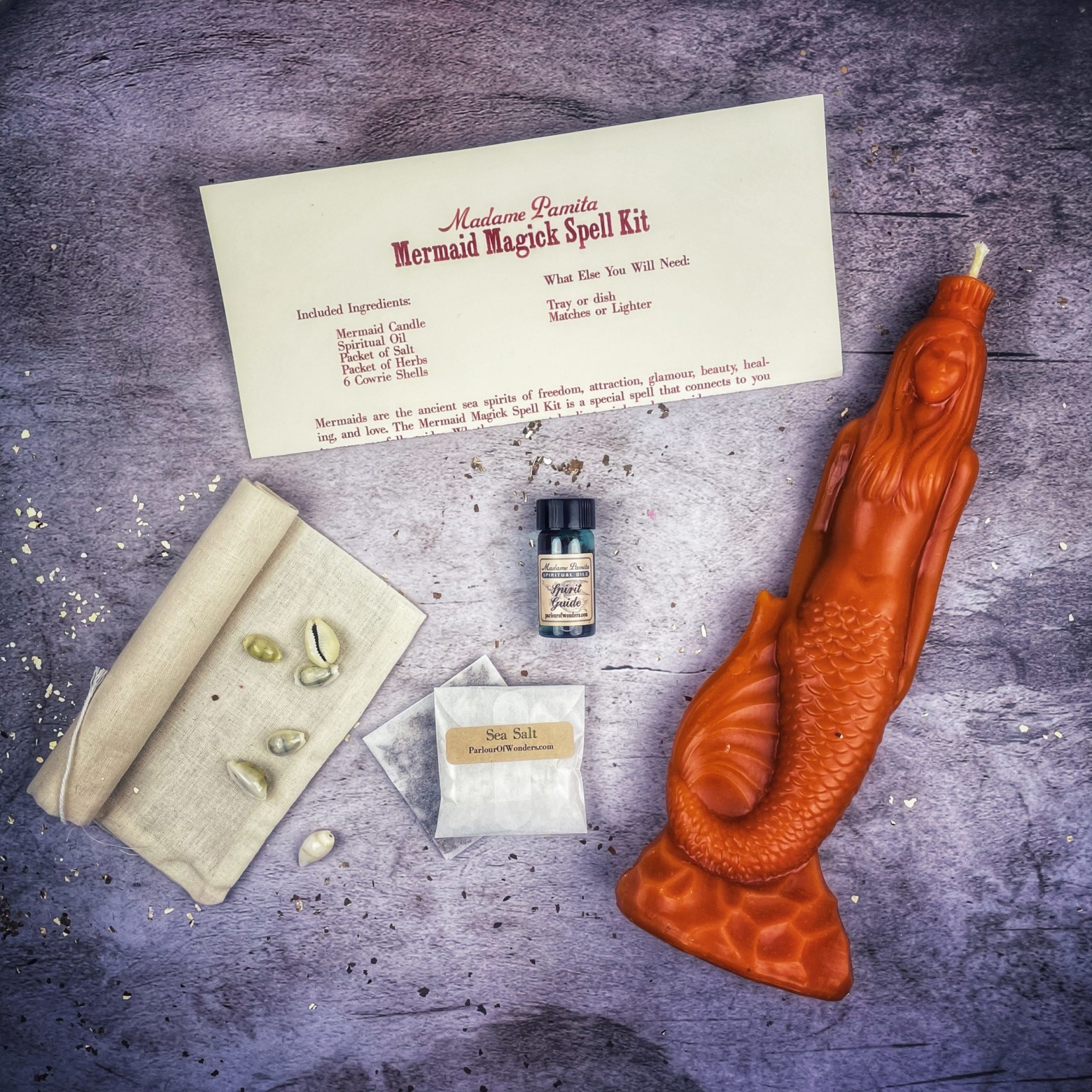 Whether you're looking for love, inner peace, self-confidence, success or abundance in life, Madame Pamita and Parlour of Wonders have a candle to help you find it.
One of the highlights of their new candle collection is their non-toxic Blue Mermaid Candle Kit. As a totally handcrafted piece, Parlour of Wonders' beautifully set and carved candle features a mermaid floating in repose atop the ocean bed with intricate detail given to her long, flowing hair and scallop-patterned tail.
Go to https://www.parlourofwonders.com/product-category/candle-spell-kits to find out more.
The new handmade unscented beeswax candle line has been released as North America's interest in candles continues to rise. According to Grand View Research, candles are now worth almost $US570 million, a figure which is anticipated to rise by 3.3% annually in the coming decade.
Parlour of Wonders knows that this popularity has been driven, in part, by an interest in the spiritual and healing dimensions of candles. As such, they have crafted a collection in their Los Angeles studio that you can use in your daily self-care and positive manifestation rituals.
Their new Blue Mermaid Candle Kit can help you to tap into the ancient mystery and feminine power of the figure of the mermaid and to attract love, protection, beauty, and abundance into your life.
The candle kit contains a complete instruction guide on how to use the candle as a spiritual object. It also comes with a complementary spiritual oil and floral and herbal blend to help you set and achieve your intentions.
Parlour of Wonders suggests that you should select the clean-burning beeswax candle in blue if you are particularly focused on healing and reconciliation. However, you can also choose the candle in red, pink, black, green, purple, yellow, orange, white and brown, all of which have a distinct symbolic and spiritual meaning, including romance, power, happiness and grounding.
You can also choose from other new all-natural and calming candle kits, like their Speak to Me lip-shaped candles, Come to Me male and female figure candles and their Lucky Cat cat-shaped candles.
Parlour of Wonders was founded by Madame Pamita, a Los Angeles-based speaker, writer and master crafter of spiritual wares.
A spokesperson for the store said, "Each of Madame Pamita's Candle Kits starts with a spiritually charged beeswax candle that we make right here at the Parlour of Wonders. Beeswax is the most luxurious candle wax that money can buy and is the very best for your health and for your positive manifestation and self-care rituals.​"
Channel your intentions and manifest your destiny with Parlour of Wonders.
Visit https://www.parlourofwonders.com/product-category/candle-spell-kits to purchase one of their beautiful and powerful Mermaid Candle Kits for yourself.
Sponsor Ads
Report this Page
Created on Sep 16th 2022 06:51. Viewed 74 times.
Comments
No comment, be the first to comment.