LED Displays Offer Excellent Scope of Increasing Revenues to Civic Bodies
by Osel Technology
Leading LED Display Manufacturer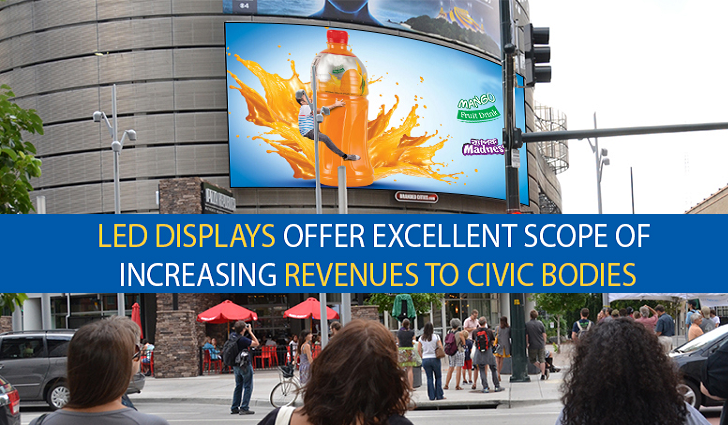 All towns and cities in India are governed by their democratically elected municipalities that are custodians of most of the public properties. The most visible example of such public properties are the scores of outdoor display boards like hoardings or billboards. In all Indian towns and cities, most such display boards are mounted with static PVC flex screens that can carry just one message at a time. The civic bodies lease out these display boards on contract to one or more out of home (OOH) media companies. If these static screens are replaced with LED display screens, their revenue earning potential would increase manifold.

Why digital signage solutions offer higher revenue
There is simply no comparison between dynamic digital LED display screens and static flex-printed screens when it comes to revenue-earning potential. The most elementary reason for this is that digital signage can display multiple ads and messages on a single screen whereas a static signage can display just one ad or message on one screen. For instance, a static billboard in a prime location in Delhi, costing Rs. 5,00,000 per month has the potential to earn as much as Rs. 25, 00,000 in a month if it is replaces with a digital display screen.
More displays at much lower prices
When a digital signage is able to display multiple ads and messages of multiple clients it has the option to charge much less for one ad or message. A static PVC flex screen needs to be printed, transported and mounted on the billboard and that process needs to be repeated for every additional ad or message to be displayed. This has never happened because it is simply not practical or feasible on static screens. On LED display screens, the ads and messages to be displayed are managed remotely from a device using advanced content management system (CMS) software.
Civic bodies can invite larger investments
In view of such exciting revenue-earning opportunities offered by LED display screens, civic bodies can invite larger investments for installation of the necessary digital display infrastructure. A simple and conservative estimate shows five times more revenue with digital displays provided the lower cost advantage is shared with the client. OOH companies with long term plans of growth and investment in innovative and futuristic equipment and systems, will respond positively to such investment proposals and tenders from civic bodies.
Need to avoid short term profitability
Some Indian OOH companies are making the mistake of charging higher prices per ad or message on LED display screens than even static screens. They will find it very difficult to gain the potential of higher earnings from digital displays unless they pass on some of the benefits of lower recurring cost to the advertisers. For most of them, barring the big brands and businesses, the current display cost of static billboards are very high. Lower prices per ad or message will bring in the necessary scale to boost revenues significantly.
Sponsor Ads
Report this Page
Created on Dec 27th 2019 01:27. Viewed 763 times.
Comments
No comment, be the first to comment.