Interactive English Language Learning Program| Visang Education
by Professional Writer
Professional Writer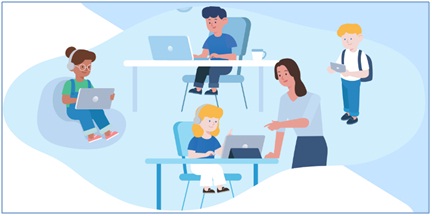 Visang Education provides digital Edtech products around the globe for online learners that are conducted seamlessly between teachers and students, both in-person or from remote settings. Edtech products such as interactive learning and digital educational content can facilitate communication between students and teachers. Visang Edtech products such as Wings, EliF and Oxford that cultivates a higher level of engagement for a true learning experience. Real-time interactions are created by sharing results with peers and teachers, which allows the direct collaboration through digital content. Whether in-person, remote, or by a hybrid of both, Visang Edtech products help the learners along their journey in the digital education program from beginning to the end.
VISANG's EliF (Interactive english language learning program)
ELiF is an interactive english language learning program designed to promote a knowledge-based digital elementary English learning program. The learning flows of EliF consist of 1) pre-class, 2) main class, and 3) after-class that are the process for learning and understanding students' progress as well.
1) Pre-Class to do self-directed learning with digital devices: This learning phase consists ofword training, listening comprehension & sentence listening, reading comprehension & sentence building, and expression & grammar.
2) Main class to produce high learning outcomes by interactive learning: It includes learning through multimedia interaction, synchronized learning results, various quiz types, and various tools.
3) After-class to review the learning with gamification: This consists of three processes, Hunt monsters to review, Mini games to play with friends, and Buy and customize the character.
Features of EliF Digital educational
EliF utilize digital devices for your diversified learning experiences.
With EliF get the most out of your learning with our great multimedia resources.
EliF English products automatically analyze students' weaknesses, helping teachers set their educational goals.
A flexible shift in the learning environment is the best way to deal with uncertain environments effectively. On EliF educational platform, teachers can run a class in a classroom and even a remote class.
If you are looking for a best Interactive English language learning program, you can find it at Visang Education.
Clickhere to contact Visang Education.
View more: Interactive English Language Learning Program
Sponsor Ads
Report this Page
Created on Jul 26th 2022 06:38. Viewed 250 times.
Comments
No comment, be the first to comment.