How to create a memorable event with Vintage RV Airstream.
by PRC Agency
PR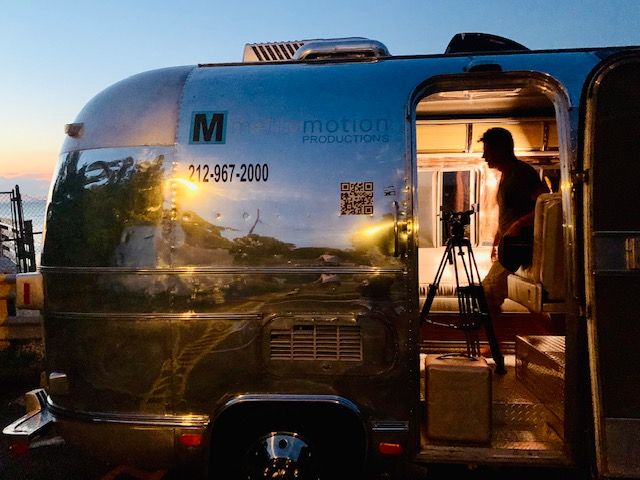 Want to bring a sleek, modern element of classic Americana cool to your product launch, event, or pop-up? If you've been racking your brain trying to come up with the ultimate concept - something that will take your event or product campaign to the next level - think vintage RV Airstream.
Right?
Is there any better way to create an instant atmosphere than with this legendary glamour machine? The team at entertainment marketing and promotions company Daylight Studio says "no, there is not," and that's why they have a fleet of vintage Airstreams with immaculately styled interiors and flawless exteriors available for rent.
Calling all marketing visionaries! Are you looking to elevate your promotion, event, or product launch plans? Look no further than a vintage yet modern-looking mobile Airstream RV. Create an immersive experience your target audience, guests, and/or event participants will never forget, and take that stellar studio anywhere your company, campaign, or party plans dictate.
See what's available for you right now, at https://www.rvairstream.com
If you work in the world of event and product marketing, you know it's next to impossible to create an experience or launch that hasn't been done before. Daylight Studio gets it, and that's why they specialize in helping you produce something unique and memorable so you can successfully promote your product line or event across an entire region.
Talk about reach!
The company's RV Airstream rentals give you flexibility, mobility, and the opportunity to generate instant audience engagement for the awareness, attention, social media sharing, and valuable lasting impression you're after.
Your vintage RV Airstream is ready to go at the turn of a key. Now you can bring an element of retro-cool that perfectly punctuates your brand or event story to deliver a well-orchestrated experience and image that instantly sets you apart.
Events, parties or product launches centered around a vintage RV Airstream tells your audience they're part of something rare. It sparks excitement and creates that elusive buzz that defines a perfectly executed concept.
Apart from product launches and events, you can rent a vintage RV Airstream for photoshoots that involve several locations, a super cool beauty parlor, a photo booth, pop-up shop, green room, corporate event location, wedding party, and much more. Uses are limited only by your imagination.
Depending on your needs, you can choose from four different RV Airstreams. There's the 36 ft. 1994 Beautystream (set up as hair salon/ beaty parlor), the 36 ft. 1994 Daystream, the mid-sized 24 ft. 1979 Mediastream, and the small, 20ft. 1975 Lovestream. All vehicles are 8 ft. wide and 10 ft. tall.
A Daylight Studio representative says, "The iconic RV Airstreams will draw crowds from everywhere. Get that must-visit factor for your event or product launch to create social media-worthy experiences. Be rare. Be noticed. Be must-have."
With their vintage RV Airstream rentals, the team at Daylight Studio gives you a genius mobile setting that blends retro glamour with clever utility to create a memorable event, product launch, party, or pop-up that delivers big-time on reach and impact.
Are you ready to roll? Visit https://www.rvairstream.com to find out more.
Daylight Studio 450 West 31st Street 9th and 10th floor, New York, NY 10001, United States Website https://www.daylightstudio.com/ Phone +1-917-213-1614
Sponsor Ads
Report this Page
Created on Jan 30th 2023 17:11. Viewed 64 times.
Comments
No comment, be the first to comment.