How to Boost your Website using Content Marketing?
by Ranolia Ventures
Digital Marketing Solutions to Increase Conversion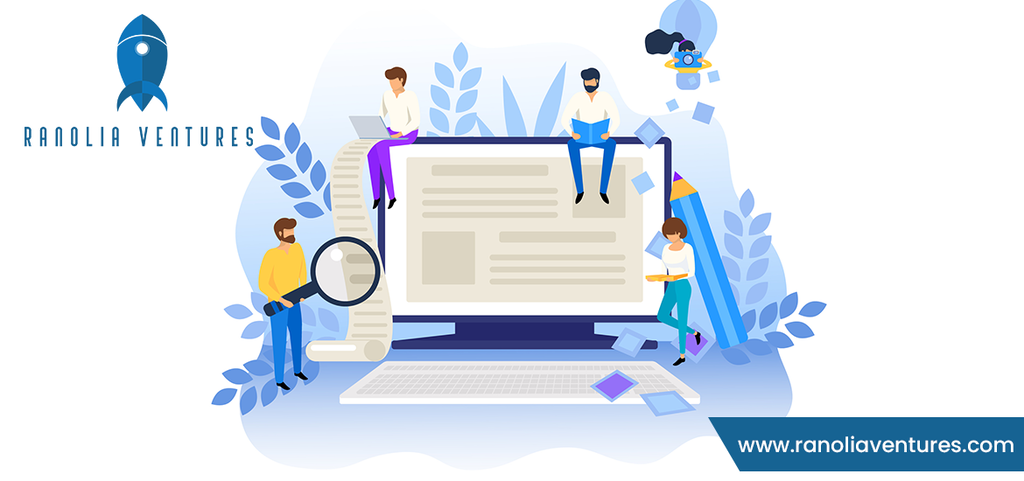 Many companies believe that having a website published on the Internet is enough to attract results. However, that does not guarantee that visitors are received, much less leads, and future sales are generated.
If you do not spend time creating useful and original content for your website, likely, you will not achieve any benefits. So get to work and produce!
Today we come to tell you how and why you should consider a content marketing plan for your website.
What is content marketing?
Content marketing
is a strategy based on the creation of creative content and focused on the specific needs of customers, potential customers, and the general public. Its purpose may be to inform, educate, generate an action, sell, position, among other things. The important thing is that the objective of the content is well defined (you can have more than one aim if you wish).
An important aspect to keep in mind: when talking about content marketing for a website, we refer to the original and unique production, that is, nothing to "copy and paste." Duplicate content can harm your site, since Google penalizes who performs that practice, and can even remove the page from its results.
Types of content for a Website
Among the different kinds of content formats that exist (all very useful and with a high rate of positive results), we list the ones you can use on your website:
• Images;
• Infographics;
• Ebooks;
• Videos;
• Audio;
• Presentations.
How can Content Marketing drive a Website?
There are many ways to boost business through digital marketing, but content production is perhaps one of the best ways to do it. Now you will see why:
Search Engine Optimization
In the production of content marketing, it is common to carefully search for specific keywords in your strategy to improve the
SEO
of the site.
The SEO ( Search Engine Optimization ) is nothing more than a set of practices to achieve a good position among the major search engines like Google, for example. That way, when a user searches for a specific subject, they can easily find you.
Increase in Visits
The increase in site visits is a consequence of SEO. If you practice SEO correctly, surely your position in the search engines will be able to attract users through the topics you offer on your page, once the main results are what usually call and retain people's attention.
Thus, the possibility of generating qualified sales (they already have an interest in what you propose), leads and growing your sales becomes a reality.
Reputation Increase
Another SEO practice that brings benefits is link building. If you produce quality content, you can earn recommendations from other websites through a link to your content. Google understands that the recommended pages have value for users and, therefore, increases your reputation and improves your Page Rank.
Authority Creation
Generating authority is a great way to show clients that you can help solve their problems. By creating valuable content, you can position yourself as a reference in the segment in which you act. That way, you gain consumer confidence, which is essential for any purchase decision.
Diffusion in Social Networks
If you have an active presence in social networks, creating content will give you even more possibilities to improve your social media campaigns. It is essential to share in your systems all the new content you produce. Beyond using them as an outreach strategy, think about how you can help your followers with all the information you have to provide them.
How to Create Content for a Website?
There are some aspects that you should keep in mind when writing content when oriented by the purpose of marketing. It is not the same to write personal content than to write for an audience that you generally want to conquer and transform into a client.
Here are five tips for you to use in your content marketing strategy for a website.
# 1 Scannability
Your content should be easy to read; in other words, it should be scannable. That means that when a user reaches the contents of your website, they should consider it friendly and simple.
Some ways to do it:
• Write short paragraphs, with 6-7 lines maximum;
• Divide your text into subtitles;
• Use bold, italic or underlined typography in essential words or phrases in context;
• Insert images whenever possible;
• Use bullet points to create lists.
It is also essential that you speak the language of your buyer persona, that is, use their expressions and their way of communicating. That is important for the reader to identify with your content. Also, worry about producing your content with reliable and verified data, thus achieving notoriety and credibility.
# 2 Relevant content
To create relevant content, you have to ask yourself the question: how is my ideal audience?
If you don't have a profile created, do it right now. The pattern will help you both create attractive and exciting materials for your audience, and from it, you will know their needs and even the tone you should adopt.
Always write about what people want to read, that should be your primary concern.
Avoiding redundancy is also very important, be creative, and explore new topics, cheer up.
The Internet is the most significant source of information today, so if you want to know something about your audience, look for it here. Their interests, their problems, or what they think about your brand, all that will give you new ideas for a content production that captivates consumers.
# 3 Frequency
The frequency of publication depends on your availability, resources, and the profile of your audience. However, something is right: the rate is necessary, no matter what.
If you do not have an editorial calendar, it is tough for a reader to reaccess your site. On the other hand, if you publish quality content with a well-defined periodicity, the reader is more likely to return to the news, since he knows that he will find something new in a certain period. Therefore, the more you publish, the more reasons users will have to visit your page.
But remember: it is no use publishing every day if the articles are poorly written or are not addressed to you.
# 4 Commitment
If your content does not generate an audience action, something is not right. Taking action may refer to sharing the content, commenting, or even becoming aware. Interaction is what it will say if you are creating something exciting or annoying for your audience.
For the client to generate commitment, he must feel that what you have written was precisely designed and designed for him. That provides a personalized experience for each person and encourages participation.
There are many ways to create interactive content (in addition to excellent scannability and no grammatical errors). You can insert images that facilitate understanding, generate contact forms, add calls to action, offer a comment space to exchange opinions with you or other users, create polls and votes, and much more. It all depends on your creativity.
Don't forget that your website must be mobile-friendly, optimized for mobile devices. That provides more interaction.
# 5 Weaknesses
Do you know the ailments of your clients? Then you see what solutions your brand can offer them.
If in your content, you show yourself as a company wanting to help solve the problems of your consumers, you will be teaching yourself as an ally in everyday life.
When people look for you to solve their problems, you will be more present, you will gain credibility, and very soon you will have a sale.
Therefore, always think about offering useful resources and that they are facilitators, something fundamental for the client to remember you.
Conclusion
We have seen that content is a way to captivate customers by joining relevant, original, and SEO techniques.
Also, we have listed the variety of formats that you can explore in the creation of your content beyond textual production.
Among the advantages of content marketing for a website, we cite the position in the search engines, the increase in qualified visits (and consequently in revenue), the creation of authority through reliable and valuable content, and the possibility of using the content in your campaigns on social networks.
Report this Page
Created on Jan 3rd 2020 06:34. Viewed 279 times.
Comments
No comment, be the first to comment.