Get A Complete Beginner's Guide To Blockchain In Crypto Trading Training Course
by PRC Agency
PR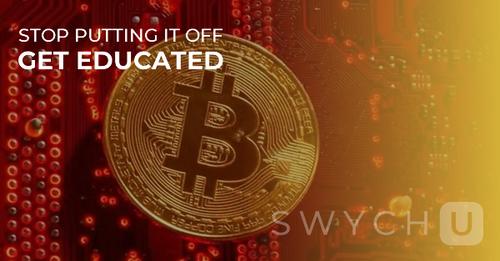 If you want to make sure you aren't left behind in the blockchain revolution, you need to make sure you understand how crypto works and how to invest in it. That's why Swychu has created its 'CRYPTO U' training course that provides you with a comprehensive breakdown of cryptocurrencies.
With their course, Swychu is making it easier for you to get involved with crypto trading by learning how the industry works, what you need to get started, and how to create successful long-term investments.
Visit https://bit.ly/3o7BsHc for more information. 
By providing a complete education on cryptocurrencies, the CRYPTO U course has been designed as an ideal introduction to the industry, regardless of your prior knowledge or experience.
The continued growth of cryptocurrencies has seen more investors adding coins and tokens to their portfolios than ever. However, if you are a newcomer who wants to be part of the blockchain boom, you may struggle to know where to turn to get a complete and reliable education. Swychu's comprehensive CRYPTO U course is the solution you've been looking for. 
The educational course covers all the crucial details that anyone interested in blockchain technology needs to know. This information includes coverage of the history of cryptocurrency, such as its growth over several years, which saw many traders generating profitable returns on their investments.
Alongside the overview of the history of cryptocurrencies, CRYPTO U also examines the challenges and potential scams surrounding the industry. This guidance helps you learn what you should be watchful for to ensure you avoid these costly scams. 
Additionally, the training covers the many myths about blockchain to clear up any misunderstandings you may have regarding crypto and how the industry works. 
Swychu also reveals their strategies and tools for helping you find coins that offer growth potential for future profitability. The company's resources include a system that can send alerts to your phone for instant notifications of new investing options.
To help you understand if the course is suitable for your needs, Swychu has also released an introductory video covering the course's content, which can be viewed prior to signing up for the course. 
As stated in the training's introduction, "You're invented to join the internet's number one educational platform for understanding cryptocurrency."
Make sure you aren't left behind in the cryptocurrency boom with Swychu's CRYPTO U educational training course today!
For more information, you can visit https://bit.ly/3o7BsHc where you can see the introduction and sign up for the course.
Disclaimer: The information provided on this page does not constitute investment advice, financial advice, trading advice, or any other sort of advice and it should not be treated as such. This content is the opinion of a third party and this site does not recommend that any specific cryptocurrency should be bought, sold, or held, or that any crypto investment should be made. The Crypto market is high risk, with high-risk and unproven projects. Readers should do their own research and consult a professional financial advisor before making any investment decisions.
Sponsor Ads
Report this Page
Created on Mar 5th 2022 15:41. Viewed 215 times.
Comments
No comment, be the first to comment.