FUT+FUE+BHT – An Innovative Hair Transplant Technique
by Andrew Martin
Hair Transplant
Medical fraternity is undergoing drastic innovations and advancements for betterment of human life. Cosmetic surgeries are in trend nowadays which was earlier embraced by high profile people and celebrities. Aesthetics have become crucially important nowadays not only for personal and social success but also for professional success. Hairs being an important cosmetic asset are the first thing which others notice. It creates the first impression as it lies at the eye level.
Hair loss was earlier considered a sign of ageing but it doesn't seem true now as it is nowadays alarming the people at a younger age. The increasing incidence of hair loss has created a mental ruckus as it is affecting the quality of life to a greater extent.
Hair transplant was quite a primitive approach decades ago but now has improvised vastly and is successful in delivering highly aesthetic results. But still the advancements are going on and taking a step ahead in betterment of the procedure and rectifying the flaws in the procedure.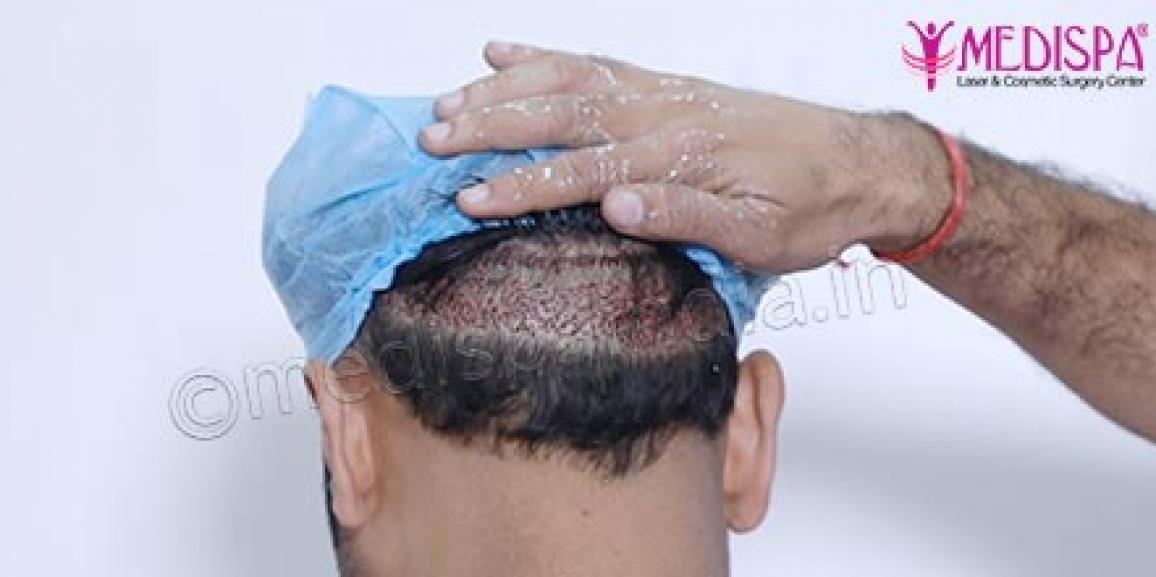 Hair transplant in India has taken a long way in terms of advancement which is luring people from around the globe for hair transplant tourism. Along with the advanced procedures, few hair transplant clinics are maintaining international standards with utilization of latest technology armamentarium. Hair transplant cost in India has become highly affordable despite the advancements and standards which are the crucial factors for people deciding to visit India for hair transplant tourism.
Hair transplant
Hair transplant is a minimally invasive surgical procedure which is intended to cover the bald head providing maximum hair density with natural looking hairline. The procedure involves shifting of harvested hair follicles from the donor area to the desired recipient area. The hair transplant procedure is highly precision based procedure which needs to be performed by an expert surgeon. The hair density at the DHT resistant donor area is crucial for performing hair transplant.
Hair transplant technique
Hair transplant is performed utilizing 2 modern techniques which are different by their graft harvesting method. The method is been explained as follows:
FUT hair transplant (Follicular unit transplantation or strip technique): In FUT hair transplant technique, a strip of scalp skin is harvested to dissect it further to retrieve individual hair grafts. These harvested hair grafts are then transplanted at the recipient site taking care of the aesthetic hairline. Each of the steps is performed under high loop magnification to negate the damage to hair follicles.
2. FUE hair transplant (Follicular unit extraction): In FUE hair transplant technique, the hair follicles are individually extracted from the scalp skin using a surgical device. The extracted hair follicles are then transplanted to the recipient bald site.
Advanced hair transplant technique: combination technique of FUT, FUE and BHT
Everyone desire of a high density luscious growth of hairs on their scalp. Hair loss sufferers do expect the same thing from the hair transplant procedure. Thankfully, to a major extent it is possible also nowadays to get maximum coverage with the advent of the advanced procedures. It is surely possible but still not in every case, the results purely depends upon the hair density available at the donor area.
A recent advancement in the hair transplant industry includes combination technique of FUT, FUE and BHT (Body hair transplant). In this procedure, the majority of hair grafts are harvested by FUT hair transplant technique followed by performing FUE and BHT for extracting the residual number of hair grafts. While performing BHT technique, the hair grafts are extracted from the beard. The area of beard from where the hairs are harvested includes below the chin area which is also termed as "shadow area".
Beard area was earlier avoided as could lead to scarring. But with the advent of newer technology instruments have made it possible. In India, very few clinics have such well equipped operatory.
Dr Suneet Soni has successfully incorporated this technique into practice and is specialized in it. He uses a latest technology 0.75 mm punch which negates the chances of scarring and provides best possible hair transplant results with high density.
Medispa hair transplant clinics is one of the fewest centres in India practicing latest innovative techniques which has obviously raised our bars in delivering the world class hair transplant results. The sole credit goes to Dr Suneet Soni and our hard working experienced team who are keen to learn and improvise them for the best interest of the patients.
Report this Page
Created on Mar 9th 2020 02:43. Viewed 148 times.
Comments
No comment, be the first to comment.