Emergency Driveway Crack Repair Tips
by Rob J.
Quality Links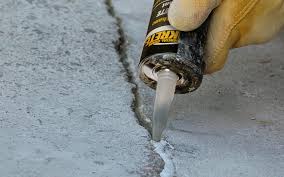 Every day, all year, your concrete driveway takes a beating. It endures extremes in hot, cold, rain, ice, snow, wind, drought, etc., making the need for maintenance and repair ongoing and occasionally, critical. If you have an emergency repair need, you should use the best driveway crack filler available and follow these tips to ensure your emergency repair is done right the first time.
Understanding Why an Emergency Happens
The need for emergency driveway crack sealer is rare but is almost always an indicator of a more serious issue. That can include:
• The drive being exposed to extreme weight
• The drive being exposed to constant but changing weight in the form of traffic
• Underneath water erosion, causing buckling or shifting
• Rapid freezing and thawing cycles
• Upward pressure from a root or large rock
• Uneven placement of significant amounts of weight causing bending in the slab
Any of these can cause cracking, breaking, bending, buckling, shifting, stress fractures, erosion of the integrity of the cement, thinning, flaking, and chipping. Each of those problems poses their own issues, but the result is almost always a slab that needs significant repair or replacement.
That is why using the best driveway crack filler to address a problem as soon as possible is much better than waiting until it starts to spread or grow more acute.
Solution Advice
When you are faced with any of the above, the sooner you can address the issue the better off you will be in the long run. Here are some tips for before, during, and after you apply your patch, filler or sealant.
• Use a cold weather mixture if the temperature is under 40 degrees Fahrenheit for up to three days prior and after the patch or filler application.
• Getting a correct setting the first time is difficult, so be prepared to make a few attempts.
• The patch, filler or sealant will shrink if exposed to rapid cooling and heating cycles.
• Thinner coats work better with each successive round of patching.
• Your emergency fix may be temporary if you live in an area of weather extremes and may require constant attention until warm weather comes and possibly replacement.
• Addressing the underlying issue as soon as possible is needed to avoid having the same issue happen again or crop up elsewhere.
• To avoid using cold weather filler, the temperature outside must be at least 40 degrees Fahrenheit.
• Concrete has to harden to at least 500 PSI before freezing.
• The colder the surrounding ground the longer time is needed for the filler or sealant to set.
You should always use the best driveway crack filler when making an emergency repair. If you follow or prepare for these tips, you will have a much higher rate of success.
Sponsor Ads
Report this Page
Created on Jul 23rd 2020 14:38. Viewed 184 times.
Comments
No comment, be the first to comment.