Easy Tips for Caring Your T-Shirts So It Doesn't Get Easily Damaged
by Ozza Konveksi
Business Owner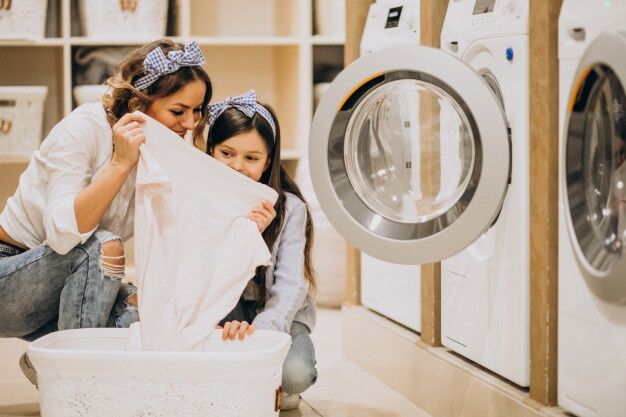 We all know that t-shirts are a type of clothing that almost everyone has. This type of clothing is often used for daily activities. T-shirts are the choice of many people because t-shirt models tend to be neutral and can be combined and matched with any type of outfit.
Every piece of clothing, including t-shirts, definitely requires care so that it doesn't get damaged easily. Why is taking care of your t-shirt so important? Because mistakes in your t-shirt care will make your t-shirts damaged quickly.
Based on that fact, this time we will provide a number of easy tips in caring for your t-shirt so that it doesn't get damaged quickly.
1. Wash With The Same Color

When washing your shirts, try to separate them with the same or the same color. Especially for the white shirt. This is important so that your clothes are not exposed to fading from other clothes colors. Because the dye on clothes can be washed off when washed.

2. Avoid Using Bleach

As much as possible not to use bleach when washing your clothes, this is because of the harsh chemical nature of bleach. Although it can remove stubborn stains, using bleach can also increase the risk of damaging your shirt.

3. Don't Brush Your T-shirt

Avoid brushing your shirts unnecessarily. This is because brushing your t-shirt can make the pores on your t-shirt bigger and even tear. If there are stains, you should rub the stained area with soap or use a soft brush gently.

4. Pay attention to the temperature when ironing

Always pay attention to the temperature when ironing your shirt. When ironing t-shirts, the maximum temperature is 150 degrees Celsius. If it exceeds this temperature, your shirt can be damaged. If you have a screen printing shirt, you should turn your shirt over before ironing it and as much as possible avoid the part that has the screen printed on it.

5. Hang Dry Your Cloth
Drying clothes or "hang dry" is a drying technique that is more suitable for t-shirts. Drying the shirt can be done by turning your shirt over and then hanging it on a clothesline in the hot sun.
For some types of t-shirts, there are those that are not suitable for using a dryer, so it is better to dry them in the traditional way.
6. Pay attention to your clothing care labels

Have you ever found a small label on your t-shirt with an image of a certain symbol? Well, you can use this guide to take care of your t-shirt.
How? Taking care of your t-shirt is not as difficult as you think, right? Taking care of your t-shirts properly can certainly make your t-shirts more durable and long lasting.
If you have other cool tips, don't forget to share them in the comments column, okay?
Sponsor Ads
Report this Page
Created on Dec 1st 2021 03:59. Viewed 87 times.
Comments
No comment, be the first to comment.