Discover the Right Anti Aging Skincare Routine for Men
by Easy Beauty
I love using beauty products and reviewing new pro
Age catches up with all of us, some a little earlier than others. So, while some men look young even in their fifties, some are unfortunately struggling with grey hair and aging skin in their twenties itself. The most visible signs of skin aging show up as fine lines, dark spots, dark under-eye circles, under-eye bags, and wrinkles.
However, as an appearance-conscious man, you needn't get sleepless nights about aging. The trick is in starting men's skincare routine young, in your twenties, so that your skin can keep away the signs of aging when there is still time.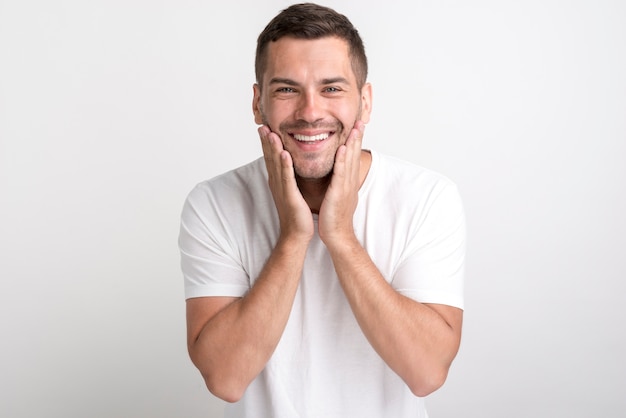 Adopting a healthy lifestyle, regular exercise, minimizing smoking and drinking, getting sufficient sleep, and such good habits can keep you looking young for longer. Along with these, start your skincare routine with the best skincare for men.
Interested to know more? Let us tell you how.
Importance of Anti Aging Skincare Routine
While it is true that aging is not necessarily bad or unattractive, you will agree that bags under the eyes or frown lines don't make you look your best.
The following changes indicate that your skin has started aging:
You start noticing frown lines between your eyebrows,

There are wrinkles around the eyes, or 'crow's feet,'

Your skin has dark spots or age spots

You have enlarged pores, or increased oiliness on the facial skin

Bags or pouches under the eyes appear, making you look haggard

In spite of getting a full night's sleep, dark circles appear under your eyes
Just as exercise tones up your body and keeps you fit, a good men's skincare routine keeps your skin in top shape.
Step-wise Anti Aging Skincare Routine for Men
The good news first.
Because men's skin has more collagen or elastin fibres, it tends to be thicker and more resistant to wrinkles and fine lines. Also, the skin texture being rougher, it can withstand daily wear and tear better. Facial pores produce more oil, so the skin is oilier than that of women.
But men need to deal with acne, open pores, dark spots and pigmentation of skin. The skin under the eyes being extra sensitive, dark circles, under-eye pouches and fine lines occur more often.
Skincare for men is absolutely essential to delay the visible signs of aging.
Here is an easy 5-step skincare routine that will help in keeping the signs of aging away:
Armed with this array of skincare nutrients, you can give your skin the nourishment it truly needs. Check out Kiehl's India for these iconic and super effective skincare products. Ward off the signs of aging with Kiehl's skincare solutions.
Let people keep guessing about your age!
Sponsor Ads
Report this Page
Created on Sep 29th 2020 06:32. Viewed 359 times.
Comments
No comment, be the first to comment.