Cummins Generator Lubricating And Cooling System
by Starlight Generator
dieselgeneratortech
This article mainly talks about Chong Qing-Cummins engines lubricating system and cooling system used in diesel generator.
The engines have small volume. light weight, low fuel consumption, high power and reliable work, and the spare parts supply and maintenance is convenient. The engines adopt electronic governor, with protection functions such as alarm and automatic parking for too high temperature in the cooling water, too low oil pressure or too speed.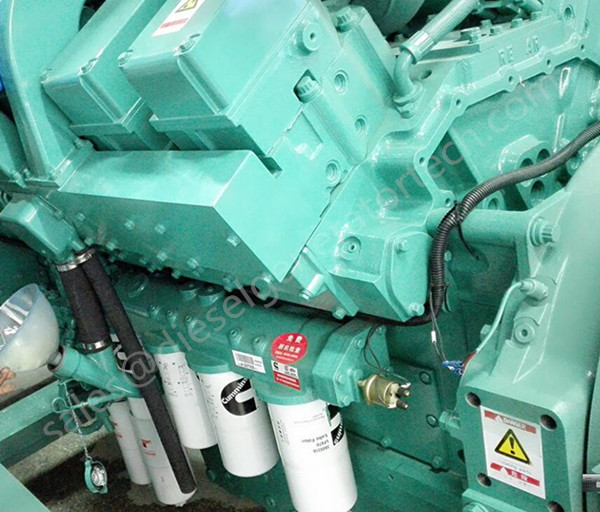 ---
Lubricating System

Chong Qing-Cummins engines are pressure lubricated, pressure is supplied by a gear-type, lubricating oil pump located in oil pan or on side of the engine.
A pressure regulator is mounted in the lubricating oil pump to control lubricating oil pressure.
Filters and screens are provided in lubricating oil system to remove foreign material from circulation and prevent damage to bearings or mating surfaces. A by-pass valve is provided in full-flow oil filter head as insurance against interruption of oil flow by a dirty or clogged element.
Maximum cleansing and filtration is achieved through use of both by-pass and full-flow, lubricating oil filters. Full-flow filters are standard on all engines; by-pass filters are used on all turbocharged models and optionally on all other engines.
Turbochargers are lubricated and cooled by same lubricating oil used for engine lubrication.
Fuel pumps and injectors are lubricated by fuel oil.
N/NT(A) Engines
Oil is drawn into the pump through an external oil line connected to the oil pan sump. A screen in the sump filters the oil. Oil is drawn from the pan by the pump, out through a full-flow or compo filter and circulates back into the block. The filter may be mounted directly to the oil cooler or remote mounted. External lines are used for remote mounting arrangements.
An oil header drilled length of block, fuel pump side, delivers oil to moving parts within the engine.
Oil pipes carry oil from the camshaft to upper rocker housings and drillings through the block, crankshaft, connecting rods, and rocker levers complete the oil circulating passages.
Another oil header drilled the length of the block on exhaust manifold sode, supplies oil to six spray nozzles used for piston cooling.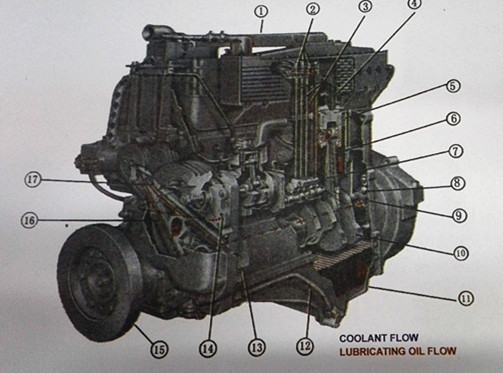 1. INTAKE AIR CROSSOVER
2. ROCKER LEVERS
3. PUSH TUBES
4. INJECTOR
5. PISTON
6. CONNECTION ROD
7. CAM FOLLOWERS
8. CRANKSHAFT OIL SEAL
9. MAIN OIL PASSAGE
10. CRANKSHAFT
11. OIL PAN
12. OIL SUPPLY TUBE
13. LUBRICATING OIL PUMP
14. OIL TO ASSISTANT DRIVING
15. VIBRATION DAMPER
16. OIL FROM COOLER
17. OIL TO COOLER
---
Cooling System
Water is circulated by a centrifugal water pump mounted either in or on the front of the engine belt driven from the accessory drive or crankshaft.
Water circulates around wet-type cylinder liners, through the cylinder heads and around the injector sleeves. The injector sleeves, in which the injectors are mounted, are designed for fast dissipation of heat. The engine has a thermostat or thermostats to control the engine operating temperature. The engine coolant is cooled in a heat exchanger or keel coder. Sea water is circulated through heat exchanger by the raw waler pump, mounted on front of engine, and discharge through connections on the heat exchanger.
The Fleetguard Water Filter is standard on Chong Qing-Cummins Engines. The filter by-passes a small amount of coolant from the system via a filtering and treating element which must be replaced periodically.
Cooling Systems of Cummins generator set
1) Air inlet should be set on the ends or both sides of generator set, with the area 2.2 times greater than the tank area.
2) The air outlet area should be 1.5 times of water tank area, and the shutters and wind wall should be installed at the air outlets.
3) Flexible duct flanges are used to connect to the water tank, so as to absorb displacement and vibration of the units and prevent the spread of noise.
4) Hot air must be vented to the outside of the chamber through the air duct, and the duct area should be smoothly transmitted from small to large values. If there are curves in the air ducts, the guide plate must be installed in order to reduce the pressure loss.
5) When the environment temperature is higher than the design temperature, we should consider using it by reducing the power.
Maybe You Also Like Portable Generator with Cummins engine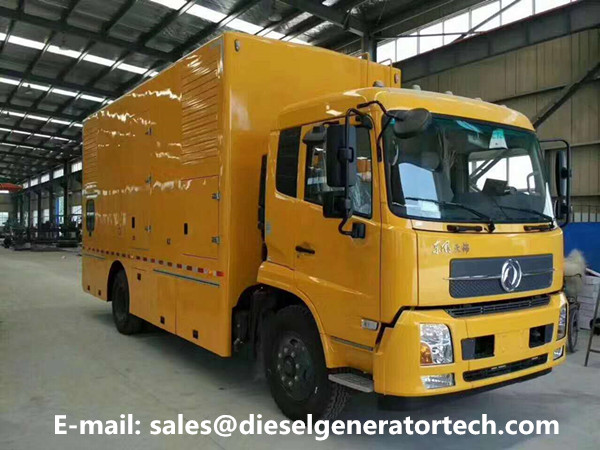 Sponsor Ads
Report this Page
Created on Oct 22nd 2017 02:19. Viewed 420 times.
Comments
No comment, be the first to comment.