Coal is Better Than Natural Gas
by Rudy P.
SysAdmin at howtofindthemoney
Did you think natural gas was clean? Don't worry, you aren't the only one. The American Petroleum Institute, including members BP, Shell, and ExxonMobil, want you to think that natural gas is clean. In fact, they say exactly that on their website. The API claims that natural gas produces one-half of the carbon emissions that coal does when used to generate electricity.
This is somewhat accurate; coal releases about 25 grams of CO2 per MJ of energy produced, and natural gas releases about 15 grams of CO2. The issue with natural gas, though, isn't the carbon released when used. The problem is the amount of natural gas that escapes, or leaks, into the atmosphere.
Why natural gas leaks are so harmful
If natural gas went from the ground to consumers' homes without leaking, it would indeed be cleaner than coal. Unfortunately, it leaks. Natural gas is made up of mostly methane, which is why the leaks are a huge problem. Methane is a much more effective greenhouse gas than CO2, and it warms the planet 86 times as much as carbon dioxide before it starts decaying. Over a 20-year period, a 1% leak rate of natural gas is the equivalent of 27.9 grams of CO2 released into the atmosphere (per MJ of energy produced), compared to 25 grams of CO2 released from coal.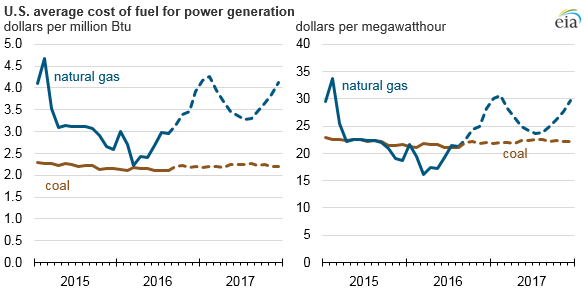 After a decade or two, methane begins decaying to CO2. This means over longer periods of time, like 100 years, the effects of methane aren't as drastic. I noted earlier that over a 20-year period, methane is 86 times more effective as a greenhouse gas than CO2; over 100 years, methane is "only" 34 times as harmful. Over a 20-year period, a 1% leak rate is the point at which natural gas becomes worse than coal, and over a 100-year period the "acce
ptable" leak rate at which natural gas is better than coal is as high as 3.2%.
Due to the urgency of climate change, I think it makes more sense to use a relatively short timeline (such as 20 years) rather than a longer timeline (100 years) to measure the harm of natural gas. We need to take action immediately, and, to put it bluntly, we can't afford to be using natural gas at all. The intensely powerful greenhouse effect of methane is causing irreversible damage to our planet.
So what's the current leak rate?
Well, it depends on who you ask. The natural gas industry reports a leak rate of 0.42%. That must be why they keep patting themselves on the back about how clean natural gas is. I think we know better than to trust the natural gas industry to tell the truth about the leak rate.
A more reliable source, the Environmental Protection Agency (EPA), says the leakage rate is 1.4%. At a 1.4% leak rate, natural gas is more harmful than burning coal over a 20-year period, but less harmful over 100 years.
The EPA isn't exactly trustworthy anymore, though. The 1.4% leakage rate was published in a 2018 report, when Scott Pruitt was still the head of the EPA. If you don't know anything about Scott Pruitt, his favorite activities as Oklahoma Attorney General were taking money from the fossil fuel industry and suing the EPA. Shortly after his stint as AG, he was appointed to be the head of the EPA. He later left the position in 2018 because he was under investigation for unethical behavior and conflicts of interest. The EPA published the natural gas leakage rate about three months before he left.
Would the real leak rate please stand up?
The EPA's rate of 1.4% is really bad, just to be clear. It's over 3x what the natural gas industry reported, and it's worse than burning coal over shorter time periods, like 20 years.
The real leak rate of natural gas is much worse than the EPA reported. A study published in 2018 found that the natural gas leakage rate is about 60% more than official estimates, and the actual leakage rate is around 2.3%. At 2.3%, natural gas is much worse than coal over 20-year periods, and a little less harmful than coal over a period of 100 years.
The future of energy
We need to be focused on doing as much as we can to mitigate the future effects of climate change right now. The damage that natural gas is doing to the atmosphere is unacceptable, but avoidable. Despite the progress made with renewable energy, natural gas is still thriving. Natural gas generates more electricity than any other form of energy, and some have estimated our natural gas supply could last for the next 200 years.
Due to the existing infrastructure in place for supplying natural gas, energy companies are hesitant to migrate away from natural gas. The electricity generating capacity for natural gas is also increasing at a higher rate than clean sources of electricity, which means more new plants are coming online. This should not be happening. We need to migrate away from natural gas as soon as possible, and put all available resources into building clean energy plants.
The lie of natural gas
Natural gas just sounds clean, doesn't it? The perception of natural gas as a clean or clean-er source of energy might be why it's been so hard to get rid of. Based on the name, I would assume that natural gas was a squeaky clean source of energy, and it seems like everyone else assumes the same.
In 2017, my local Farmers Market began partnering with a local natural gas company. The gas company latched on to the image and perception of the Farmers Market — sustainable, organic, environmentally friendly — and used it to their advantage.
I began seeing posts in my social media feed from the Farmers Market that read like natural gas propaganda, talking about how clean and sustainable natural gas is. At this point I hadn't done any research into natural gas, so I didn't know if the claims were true or not, but the language in the posts seemed forced and suspicious. After enough research to feel informed, I commented on one of their social media posts letting them know that I was disappointed in their fossil fuel partnership. I felt like that went against the values of the Farmers Market.
The Farmers Market quickly deleted my comment and asked me to instead email them with my concerns, which I did. Over email, they admitted they never fact-checked the natural gas company, and posted statistics and information the natural gas company provided without verifying it was true. The posts were never altered or deleted, though, and were seen by thousands of people. You can still view them today, and they still proclaim that "natural gas is WAY cleaner [than coal], way way cleaner. The US is burning a lot of natural gas." At least the second half of the statement is true.
The power of disinformation
Disinformation comes from everywhere, even sources we trust. Who would've thought I couldn't trust my local Farmers Market? They were probably the institution I trusted the most.
I don't blame the Farmers Market for initially falling victim to the lie of natural gas; I previously thought natural gas was much cleaner than coal, too. I do blame them for not properly fact-checking the owner of a natural gas company, and promoting fossil fuel propaganda, even after they learned the truth.
When it comes to climate change, we can't afford to believe everything we read. Especially when it comes from companies profiting from the destruction of the planet. Be diligent, do your own research, and don't forget: natural gas is dirtier than coal.
The 10 largest coal producers and exporters in Indonesia:
Report this Page
Created on Nov 6th 2019 07:03. Viewed 173 times.
Comments
No comment, be the first to comment.