Circular Knitting Machine & Its Types
by Sanjeev Yadav
SEO
Circular knitting is a particular knitting form which is used to create a seamless tube. When knitting is performed in a round way, it is cast on and the stitches made to join the circles. While in flat knitting stitches are done in rows, here in circular knitting stitches are made in a spiral manner.
In the beginning, circular knitting used to perform with a set of 4/5 double-pointed needles. After then, the use of circular needles came into action. These types of needles were also used for knitting in the round. The look of a circular needle is like a pair of short needles which are joined by a cable.
Circular knitting machine:
With the use of a circular knitting machine, knitting became easy. It shrunk time used for knitting. For example, two socks can be prepared in less than an hour.
It implies that you will be able to knit a gift quickly for your family or friends. Except for buying a new one, you can purchase a used knitting machine in Surat to save some bucks. Don't worry as the suppliers provide good quality machines in working conditions. Sometimes, you may get a warranty also.
Types of circular knitting machines:
Two types of circular knitting machines are available in the market, which is Double Jersey and Single Jersey circular knitting machines.
1. Double Jersey circular knitting machine – It has a pair of needle sets. It has no sinkers. The double arrangement of needles is done to prepare the fabric thick, and the thickness is double the thickness provided by a single jersey circular knitting machine.
Double Jersey machine is of two types –
i. Rib – In this machine, the pair of needles are placed at 90 degrees angle to each other. The needle on the cylinder remains at a vertical position and the needle on the dial remains at a horizontal position. These two needle positions move to form the rib pattern.
ii. Interlock - In this machine, the pair of needles are placed opposite to each other and alternatively. This type of machine uses a pair of latch needles.
2. Single Jersey circular knitting machine – Unlike a double jersey machine, a single jersey machine has only one cylinder and a single set of needles are placed on it with sinkers. The approximate diameter remains 30 inches but it may vary with the type of the machine. The fabric knitted here contains simple thickness. Front and back of the fabric remain clearly different.
Single Jersey circular knitting machines are mainly three types, which are –
i. Terry – terry fabrics can be knitted using plush knitting technique.
ii. Auto Striper – in this machine, the yarn needs to be fed through an automatic yarn feeder. This is programmable. The yarns can be fed in particular ways to prepare the required fabric.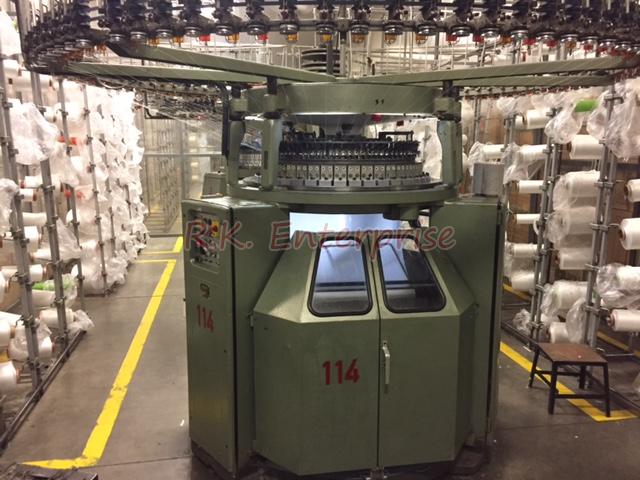 iii. Jacquard – this is generally the basic circular knitting machine. It has an actuator that facilitates the needles' movements through a computerized system and the jacquard patterns get printed.
Many people have a hobby of knitting different unique patterned fabrics at home. They can surely buy a used
circular knitting machine in Surat
to sharpen their skills at home!
Sponsor Ads
Report this Page
Created on Aug 28th 2019 23:43. Viewed 220 times.
Comments
No comment, be the first to comment.