Can Hair Transplant Provide Maximum Coverage With High Density?
by Andrew Martin
Health Consultant
Decades ago hair transplant had a primitive approach which had created a bad reputation of the procedure. Since then the hair transplant techniques and armamentarium underwent many advancements and innovations which has made the procedure the most desirable one for hair loss. Nowadays, hair transplant is considered as the best and the most effective hair loss solution which is been preferred worldwide. Hair transplant is not only opted for covering the bald head but also for sparse hair growth in facial regions like beard, moustache and eyebrows. Including, this procedure is being opted for rectifying the flawed hairline for a better appealing and attractive look.
Hair transplant
Hair transplant is an outpatient surgical procedure which involves the transfer of the hair follicles or hair grafts from the donor area to the desired recipient bald area. The procedure is purely a restoration procedure and involves shifting of hairs and not regenerating them. The most common donor area for performing hair transplant is back and sides of the head and alternative areas include the body hairs.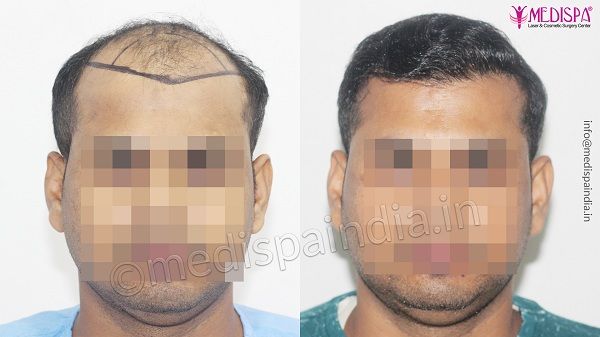 Hair transplant in India has gained a lot of popularity as the demand of the procedure in the nation is on peak. Not only Indians people from all over the world lure to India to get the hair transplant done. The credit for high patient footfall in India goes to the renowned and world fame hair transplant surgeons. Including, the hair transplant cost in India which has become very affordable nowadays is another cause for the hair loss sufferers to make it a choice and foreign nationals to visit for hair transplant tourism.
Medispa hair transplant clinic is one such clinic that has high patient footfall from every part of the world. We are approached from worldwide due to our high international standards, best facilities and amenities with world class hair transplant outcomes. Dr Suneet Soni is well known for his astonishing surgical skills and artistic hairline designing. His keen observation and dedication to perform every step of hair transplant on his own has made him one of the top hair transplant surgeon all around the globe.
Can hair transplant provide maximum coverage with high density?
Yes, apparently hair transplant procedure can provide maximum coverage with high density but there are certain terms and conditions which need to be considered. Hair transplant procedure use your own hairs which makes it necessary that you have enough of them to cover the bald area successfully. If the hair density at the donor area is ample then you can achieve high density hair transplant for sure. Therefore, to confirm the feasibility of the procedure and the candidature you need to consult the hair transplant surgeon. The hair transplant surgeon would assure the quantity and quality of hair follicles available and then inform regarding the feasibility.
It is mandatory to be judicious while deciding the number of hair grafts to be harvested for the procedure. If an inexperienced surgeon in the lure of providing high density harvest excess number of hair grafts without availability it could lead to over harvesting and violation of safe donor area. the results might end up with less survival rate of the transplanted hair grafts and density depletion at the donor area.
How can we achieve hair transplant with maximum coverage?
There are ways by which an expert hair transplant surgeon can make sure the achievement of high density hair transplant which include:
1. Minimise the damage to hair grafts: The damage to hair grafts should be minimised when you need to deliver high density hair transplant which can be successful by the following:
· The procedure should be performed by expert hands
· Choosing the right technique preferably FUT technique as FUE technique is more prone for hair graft damage being a blind procedure
· Proper handling of the graft
· Minimum out of body time if performed by FUE technique
2. Combination technique of FUE and FUE: This technique was introduces with the intention of providing either the high density hair transplant or providing pleasant coverage in extensive bald cases in single session. This technique successfully provides more than 4000 hair grafts which are not possible without violating safe zones by each of the technique alone. Therefore, this technique is preferred when there is demand of high density hair transplant with maximum coverage.
Dr Suneet Soni has excellence in providing the best hair transplant with minimum damage to hair graft of up to 1%.
For the best high density hair transplant, visit Medispa hair transplant clinic in Delhi and Jaipur.
Sponsor Ads
Report this Page
Created on May 7th 2020 03:39. Viewed 578 times.
Comments
No comment, be the first to comment.