About Archive Shelving And Tips To Choose The Right One
by John Wilson
Supplier
Shelves are not only functional but are versatile as they can be added to even the most unusable and oddly shaped areas of your home or office.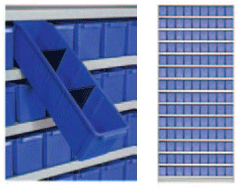 Archive Shelving is very useful in business that deal with a lot of paperwork. It is a racking system with multiple shelves which are designed to fit archive boxes perfectly. Typically one shelf will store nearly 5 boxes with the potential to have multiple boxes stacked on top of each other per shelf. The shelves also vary in depth and are usually adjustable so you can tweak the amount each shelf can store if you wish to.
Archive shelving can help you to identify and store distinct areas of paperwork effectively and efficiently. The boxes themselves are usually made of cardboard. It is an extremely effective way to store any paperwork that you may need in the future.
Choosing the right type of shelving for your interior can also add creative flair to your personal space, creating modified focal points in any room. Whether free standing or fixed, shelves can make your space clutter free.
Tips to consider while choosing shelving:-
Shape - Shelving systems come in all shapes. Right from square to rectangular and even honeycomb. Selecting the right shape depends on the space you have to work with as well as your personal preference. You can choose shelves best suited to your interior and start making the most of your new shelving system, once you decide the space you have to work with and their intended function.
Size - The size of your shelves or shelf unit system depends on where it will be placed. You may consider compact shelving for small spaces. While library floor-to-ceiling shelving for large spaces. Free-floating shelves are an ideal option to create more floor space for furniture items while still allowing you to showcase collectables. Since these shelving units float off the floor, they don't take up much room, which creates a sense of space.
Colour - There are several factors influencing the shelving colour. The addition of brightly coloured shelving like yellow to a dark space gives the illusion of light. While neutral colours help make smaller spaces feel bigger and darker shades can make large interiors feel cosier. Your interior design will also influence the colour decisions.
Materials - Shelving systems are available in a wide array of materials such as wood, glass, steel and even plastic. The selection depends on the look you want to achieve, the colour you desire and of course your individual budget.
Adjustable Shelving - You must go for adjustable shelving. Many modern shelving systems come with adjustable shelves. These allow you the flexibility to decide the heights. It also allows you to create mismatched, abstract looks.
Shelves are the ideal space for you to showcase your personality and preferred interior style whether you prefer displaying items by shape, size or colour, or create a contrasting design by mismatching collectables.
Sponsor Ads
Report this Page
Created on Nov 15th 2018 03:08. Viewed 488 times.
Comments
No comment, be the first to comment.