5 ways technology can help ageing Australians
by Claire J.
Content Manager
Australia's aging population is largely helped by advancements in medicine and technology. And while this might be the case, many older Australians struggle with tech, with the over 65 age group having the lowest interaction with the internet.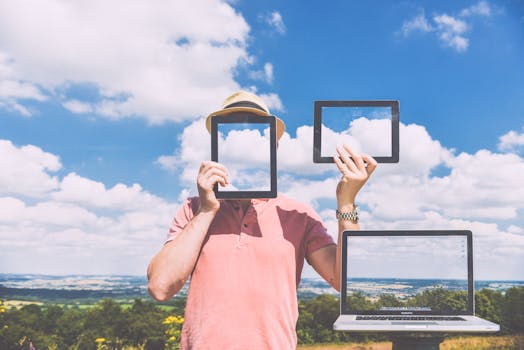 As our lifespans increase and technology advances, it's important that older Australians know how to use technology in order to improve their lives. Here's 5 ways technology can help ageing Australians.
1. Close the distance
Remaining connected is a big challenge faced by older people. Social circles tend to shrink and it becomes harder to travel which means it's harder to stay connected. Making calls to family and friends is sometimes the only way to stay in touch, but doing this can lead to an expensive phone bill, especially if they're long-distance calls.
Digital technologies like Skype and Facetime allow users to call and video chat over an internet connection to anywhere in the world, free of charge! Having face-to-face contact, even if it's through a screen can be special, even more-so when it's with grandchildren!
While technology shouldn't replace in-person human interaction, services like Skype can enhance social interactions and bridge geographical distance.
2. Foster new relationships
Similarly, digital technologies can help people make new connections they otherwise wouldn't have. Sites like Reddit make it easy for users to connect with people with similar interests, needs and skills. While this is largely used for the social aspect, it can also help people build businesses, and people hire independent workers.
3. Help with medication
Typically, age brings with it more medication and pills which can be overwhelming. Keeping track of what pills, how many pills and when to take certain pills can be difficult, especially with deteriorating memory.
Mobile apps have revolutionised organisation, and in a way, can act as an extension of our memory. For example, Pillboxie is an app designed and developed by a registered nurse. It has a simple, easy to understand interface, allowing you to 'visually' organise your medications. Schedule in every medication you need to take, with pleasant reminders, large font and custom colours for each medication. The app also serves as a useful place to list all the medication you are on and how you are taking it.
4. Inform and educate
Technology has made accessing information and education incredibly easy in recent years. There's a plethora of new and media sites which make it easy to be constantly updated on events and news from around the world.
Interestingly, technology is changing the world force, and automation is seen as a very real threat for a lot of industries. For senior Australians in the workforce, the ability to access education in order to retrain and stay employed is crucial. Online education allows people to take courses whenever they want from wherever they can, meaning older Australians can learn or be retrained without having to travel to a physical campus. Universities like Stanford now offer 'Massive Open Online Courses', where anyone can access lectures and course content.
5. Minimise the impact of ageing
Perhaps one of the most significant ways technology can help ageing Australians, is to minimise the impacts of ageing itself. At the moment, technology mainly impacts on ageing in the form of medicine but this could change dramatically in the future.
Smart homes will be able to discreetly monitor the occupants and assist with daily routines, meaning ageing Australians can stay at home for longer, rather than moving into retirement homes.
Within aged care facilities themselves, things like exoskeletons may be able to help seniors remain mobile and independent.
Technology is always advancing and finding ways to improve our lives. Ageing Australians should embrace advancements and find ways technology can help their daily lives, whether it's to help them remain connected to family or to keep them educated and in the workforce longer.
Claire is a content manager at Kew Gardens aged care, a state of the art, luxurious facility. The Banfields facility is part of the Australian Aged Care Group, who have provided excellent care for over 50 years.
Sponsor Ads
Report this Page
Created on May 28th 2018 01:07. Viewed 341 times.
Comments
No comment, be the first to comment.