5 Amazing Books Like Percy Jackson Series [For All Age]
by Manik Ghawri
Co-founder
There is news amongst the book lovers that soon the eighth book in the Percy Jackson series will be released. So, till then I suggest you read these books like Percy Jackson and never get over Percy Jackson books.
Books Related to Percy Jackson
These are the books to read if you liked Percy Jackson series.
1. The Apothecary by Maile Meloy
My friend suggested me The Apothecary series for books like Percy Jackson series. Now I am thankful to her for recommending this book.
The story starts when Janie Scott moved to London. She finds everything dull and gloomy until the day she met Benjamin Burrows. Benjamin aspires to become a spy and when his father was kidnapped, he confided in Janie and Benjamin with his sacred book, Apothecary.
Apothecary is a book full of magic spells and secrets which needs to be protected from enemies. And, their enemies are Russians with nuclear weapons.
2. Mark of the Thief by Jennifer Nielsen (Series)
Like Percy Jackson books, Mark of the Thief also never fails to amaze you with its compelling story.
While working in the mines of Rome as a slave, Nic is forced to go in a sealed cavern filled with the treasures of Julius Caesar. The treasure is not only the gold and gemstones but Nic also discovers an ancient bulla; an amulet of Julius Caesar.
The bulla is magical with deadly powers for which many Roman would kill for. Now, these powers are infested in Nic's body which results him to be the part of the great conspiracy.
Grab this book and know how Nic saves Rome and fights for his freedom.
3. Sea of Trolls by Nancy Farmer (Series)
There was a time when I was crazy for Percy Jackson books and aggressively looking for its read alike. Then, I found an article on Vowelor which recommended me to read The Sea of Trolls by Nancy Farmer for the Books like Percy Jackson. And, here I am adding this books series in my recommendations!
It is a story of Jack and his sister from Saxon village who were kidnapped by berserkers in 793 A.D. They were taken to the Ivar's court by Viking Chief Olaf One-brow.
Story takes its turn when Jack mistakenly casts a charm on Ivar and his ordered to find the magic to undo the charm. Jack went on the exciting quest for the magic at the cost of her sister's life.
You are going to be completely thrilled by the compelling story.
4. Sweet Venom by Tera Lynn Childs (Medusa Girl Series)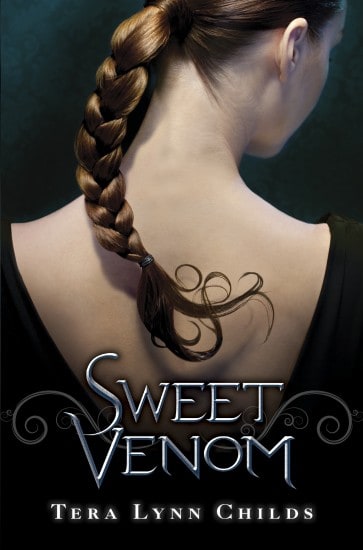 Tera Lynn Childs is the bestselling young adult author. So, if you are specifically looking for books like Percy Jackson for adults, then Sweet Venom is perfect for you among all other books.
The book narrates the story of three heirs of Medusa who needs to be together and follow their fate. These three girls lived in different locations and look absolutely similar to each other.
It's enthralling to see how story unfolds the life of Grace, Gretchen, and Greer and reunite them for a bigger purpose.
5. The Red Pyramid by Rick Riordan (Kane Chronicles)
I think it would be best to read other books by Rick Riordan after reading Percy Jackson books.
The Kane Chronicles is set in the time period of ancient Egyptians. It tells the story of two children; Carter and Sadie who had lost their mother. They have been on the trip with their father Julius Kane who as per to his promise took his children to the museum.
The life of all three changes when Julius accidentally summons the God of Evil and was kidnapped by the Gods. Now, Carter and Sadie sets on to the dangerous journey to find their father.
Final Words
I have recommended you all of my best books like Percy Jackson that I have ever read. Now, it feels like I have had enough of the adventure and thrill of the book world. But, if I will ever feel like going back to books like Percy Jackson series then this will be my go-to-list.
Hope you will also find this list as amazing as it is. Happy reading!
Report this Page
Created on Sep 8th 2019 00:56. Viewed 126 times.
Comments
No comment, be the first to comment.