3 Interesting Facts About Jaisalmer
by Veena World
Travel, Explore, Celebrate!
Home to rich cultural heritage, fascinating tales, and exquisite sites, Jaisalmer is an experience in itself. Being one of the most popular tourist destinations in India, Jaisalmer boasts of some spots that are bound to amaze every traveller. An excursion to this spectacular place can turn into a remarkable experience with just a little bit of knowledge about the best spots. Here are some of the most amazing facts about Jaisalmer that will help you unveil some offbeat and interesting places in the city:
Largest Desert Forts in the World
The Jaisalmer Fort is one of the most visited places in the city. And there are a number of reasons why you should pay a visit to this amazing fort as well. The Jaisalmer Fort is the largest desert living forts in the world and is also the second oldest fort in Rajasthan. Owing to this, it has been revered as a UNESCO World Heritage Site. And if you are here for a few days, you can consider staying in the fort and get a glimpse of how the Rajput used to live here.
Home to the Thar Desert

Another reason why Jaisalmer is one of the most sought-after tourist destinations is because of its Great Indian Desert. The Thar Desert is another place with many feathers in its cap. It is the ninth-largest tropical desert in the world and covers over 200,000 km of land. The desert even forms a natural boundary between India and Pakistan. Also, be sure that you try desert camping and camel safari while you are here.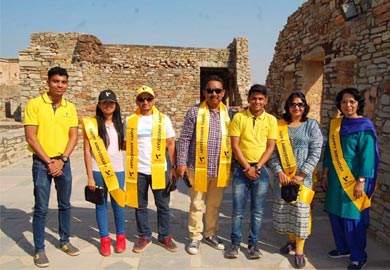 The Spooky Village of Kuldhara

If the camel safari did not get you an adrenaline rush, you should probably visit the village of Kuldhara. It is an abandoned village and is just 15 kilometres away from Jaisalmer. Once, known to inhabited by a prosperous group of people – the Paliwal Brahmins, the village was known for its trading skills and agricultural knowledge. But one night, all the villagers vanished into the dark. There is still no trace as to where they went. It is believed that there is a curse over the village and has since been abandoned. However, this has intrigued a lot of travellers. Kuldhara attracts several tourists who wish to explore the mystery behind this tale.
Jaisalmer is a city that was once known for its trading. Now, it has transformed into one of the most popular and interesting tourist spots for people all across the globe. And we are sure that by now you will be able to know why it so famous amongst travellers. We hope that you will be able to plan your jaisalmer tour package and explore all the stunning spots in this city
Sponsor Ads
Report this Page
Created on Nov 6th 2020 02:27. Viewed 202 times.
Comments
No comment, be the first to comment.