Lisa G Intimates! A place for sharing, caring & Health!
Cheers to your Success & Well Being! - May 23rd 2013 12:28
About our Business


Lisa G Intimates
Welcome to my Business Center
My business Center is dedicated to two major issues,
#1 Your Health - I have been a label reader as far back as I can remember. Even before I could read, I had interest in knowing what was in my food and how these ingredients helped or hurt your body. It is my honor to be able to share my favorite Health products, books and knowlege obtained over the years from true gurus in the industry. I will be adding more exciting health issues soon! For now, I would like to share with you the best selection of Ayurveda Herbs.
1. It's finally here! Love Ayurveda Herbs!
Try a Proprietary Formula for Health And Beauty based on Ayurveda - the Oldest and Most Holistic, Comprehensive Medical System Available.


To see all of these wonderful Ayurveda Herbs, and complete online catalog filled with information, please click the following link. If you are not familiar with herbs, or have an herb that you would like to learn more about, Simple! Just click on the Herb Finder, you cna search by the first letter. A list of all herbs A-Z will be presented with details.
Thanks! Cheers to your heatlh!
Pay for good health today, or pay for bad health tomorrow!
Herbs for pets too! AyurCat & AyurDog!
As most of us here are using the internet for our jobs, more and more of us are not getting enough exercise and/or eating right. I Ooohh..exercise and eating right, did I day that?
Yes, I proudly did! A few or more extra unwanted pounds maybe? Wondering what is the best way to loose or maintain your current weight?
Well, dont' worry, it happens to the best of us. Don't fret, great information and resources are on the way. No gimmicks or potions, things we can all do to get more fit! I have personally had great success!! You can too!! Belive me, as they say, "I have fallen off the bandwagon" many times. I'm still a work in progress, and always will be, as taking the best care of yourself is an everyday challenge, so you will never be alone on this journey.
My personal diary and information from a professional source and great recommendations are on the way PLUS
information from my favorite health guru coming very soon! No more diets!
Having total health does not stop by what you consume and how much exercise and activities that you do. Another very important aspect to consider is what you are breathing. Some things, unfortuantely, we cannot control too much. What you breath in your own household, can be very controlled. Have you ever considered how much toxins we breath or take in through our largest organ, our skin? I know my mom brought me up cleaning with your mainstream, commercial cleaners (I want mention any names) but I'm sure most of us have these products.
I challenge you to do your own research and to check into using natural, non toxic cleaners for yourself and your family.
http://www.quickinfo247.com/9892323/VCL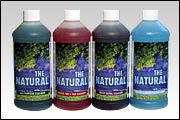 #2 Your success on the internet.
I know this is a majorly differnt subject, yet, it does tie in. As we are all sharing our business opportunties, knowledge and products with one another, we need more than one place to share them.
If I list a business or a product, it is only because I am personally using it and benefiting from it.
In the begining of venturing into interent opportunities, I was very skeptical. I also used to think, that a few pennies, or few dollars, here and there..would not ever add up to much. I have learned that...indeed, it all can add up!
Please read my blog entitled the Doubling Penny. You can find it on my main profile page. I hope you enjoy it! It is great food for thought.
Oh, by the way, did you know there is a way to protect your affiliate programs. Please be sure and sign up for free.


More great information will be added to Lisa G Intimates Buisiness Center Very Soon! Please check back! I am very excited about sharing all this wonderful information and products that I personally love with you! Thanks for stopping by, please visit again!
P.S. Hope you enjoyed my business center!
Thanks a bunch for stopping by.
Love to hear from you! Have a wonderful day!
Do you Live in the USA, Canada, Austrailia, Ireland, or United Kingdom? Please don't miss out on signing up for Big Crumbs! It's FREE! Just click on the banner above! It will be love at first "site"! It was for me! This is my favorite!
You will be so glad that you did!
Other Business Social Networks for your consideration. All Free!
Your business is precious and so are you, let as many people as you can, know about you and your business! Spread your opportunity, and your income!! Make more great friends and contact along the way!


Get Linked from 62,000+ sites with one click.
Let even more people know about your business! Please check out these social networks. Apsense is my favorite, but these are also nice.
Featured Products or Services
Testimonials
| | |
| --- | --- |
| | Lisa is the finest person I have ever met on Apsense. I signed up for her Big Crumbs business and reccomend it to everyone. I'm sure Lisa will help you to grow your business. She is a very helpful and caring person. Gary |
hoping to connect even further and wanted to let you know of a great tool with comf5 a technology refresh... http://www.comf5.com/goent http://bit.ly/gcomf5 connect futher on skype also goentskype

-

cruzn

September 21st, 2010
| | |
| --- | --- |
| | Hi Lisa, your business center is by far one one "the best" organized and easy to navigate through site that I have seen, Interesting products as well. I will be visiting again: Keep up the great work that you are doing! Gia |
| | |
| --- | --- |
| | You have a very nice business center, well layed out & nicely organized, very professional, and it so well written I can feel your passion in the products you mentioned, wonderful job & I wish you much success with it all. |
| | |
| --- | --- |
| | Your professionalism and spirit os helpfulness shows on your webpage and I can't believe it has taken me so long to visit! I should have been here long before now! Thanks for all your support and kind words in messages etc... Beth |